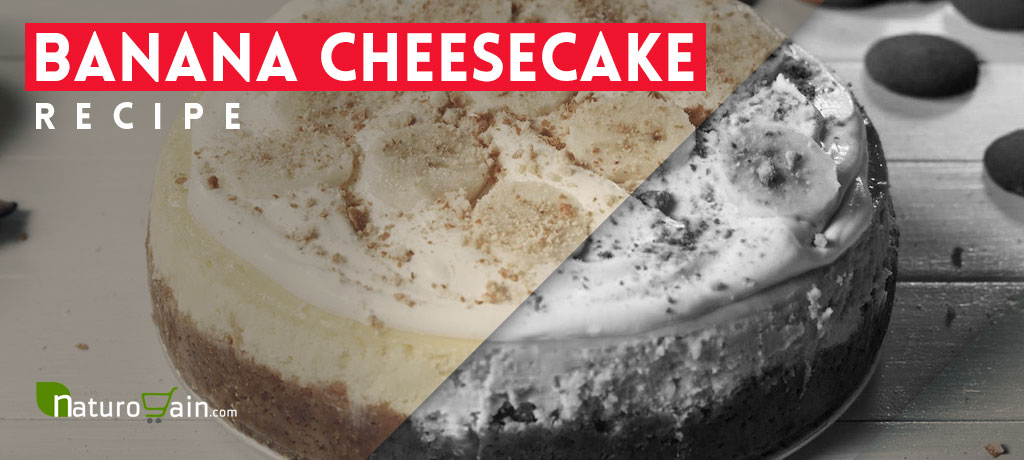 Dessert is something which everyone likes and these delicious recipes can be served in a day or after the dinner as per one's convenience. The only thing is that you should have taste to create new recipes then you will find that it is very easy to make or to be precise create a new dessert.
Do you like bananas and cheesecakes?
Yes, then we will mash both of them together and the outcome is called "banana cheesecake", which is the amazing and delicious recipe for you. Both children and adults will relish it.
Preparation Time: 30 minutes
Cooking Time: 1 hour 30 minutes
Total Time Required: 2 hours
Ingredients
Crust
Digestive Biscuits: one and half cup or 14 to 15 biscuits.


Melted Butter : 6 tablespoon or approximately 60 grams


Sugar(Granulated): one-fourth cup


Powered Cinnamon: 1 teaspoon.
Cake
Cream Cheese: 1 pound


Sugar(Granulated): three-fourth cup


Lemon Juice: 2 teaspoons


Eggs: 4 in number


Mashed bananas: 1 cup (approx. 3 medium sized bananas).
Topping (optional)
Vanilla extract: 2 teaspoons


Grated Coconut: 2 tablespoons.
Directions
Preheat oven to 350 degrees.


Now, properly mix the digestive biscuit crumbs with the melted butter, cinnamon and sugar.


Blend the mixture well.


Press the crumb mixture with slight pressure to the bottom of the pan and keep the sides slightly up.


The crumb mixture formed is smooth and an even thickness along the bottom of the pan.


Bake it in oven for 10 to 12 minutes at 350 degree.


Cool it first before filling.


Mix well cream cheese, sugar and lemon juice in large bowl and beat them thoroughly.


Add the eggs, one by one, beating them thoroughly.


Add the mashed bananas and blend them well.


Gently pour the mixture and evenly spread it onto the prepared crust and bake at 350° for 50 to 55 minutes or wait till centre is almost set.


Now, takeout the cheesecake from the oven; cut it with knife at the edges of cheesecake to lose its grip. Garnish the top of cheesecake with delicious vanilla extract and sprinkle grated coconut evenly. You can also garnish it with almonds pieces.


Let it cool completely on a wire rack for one hour.


Cover it with lid and keep it in fridge for almost 8 hours.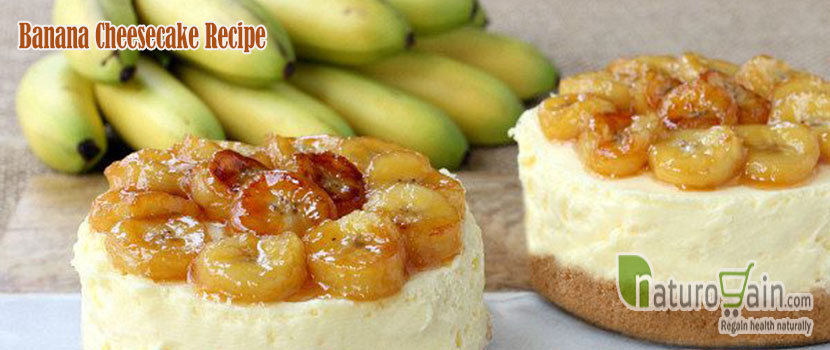 Servings

15 people you can serve for.
Health Benefits
The pulp found inside the inner periphery of the banana is easily digestible, which contains sugar provide instant energy to the body.


It reduces constipation problem because it contains soluble fiber, which facilitates the bowel movements. This very good for people having sedentary lifestyle.


Banana contains good quantity of vitamin-B6 or almost one-third of the daily requirement of the human body. This rich source of vitamin-B6 plays crucial role in curing deficiency of iron (anemia) in the body.


Potassium is found in good quantity in banana, which helps in regulating heart rate and thus blood pressure.