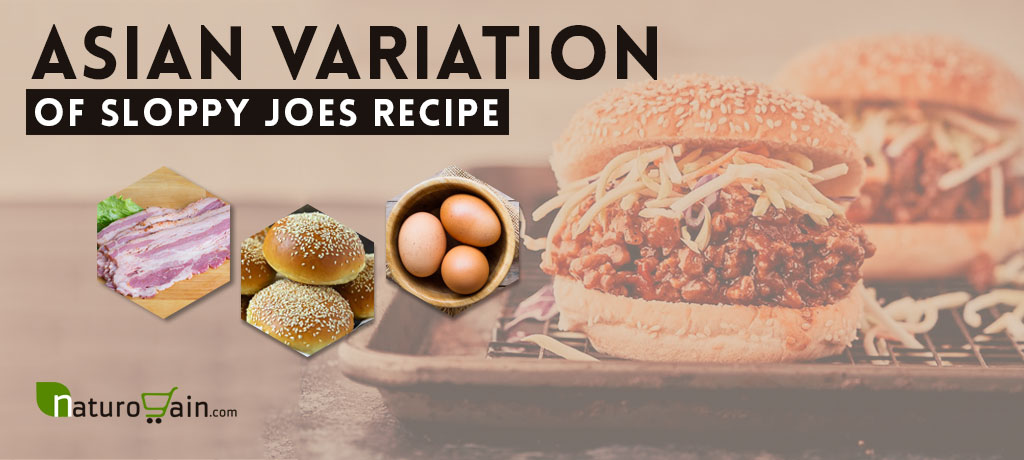 This recipe is a twist on traditional sloppy joes which will surprise you with new intriguing taste. It is unique and interesting variation with Asian inspired sauce which is definitely worth trying out. This meal makes great brunch, snack or even a lunch. Asian sloppy joes are also incredibly easy and quick to make which makes them perfect for whenever you're in a need of quick meal.
You may like reading:
Blueberry Egg Rolls Recipe
Home Made Egg Rolls Recipe
Preparation and cooking time
Preparation time:
10 minutes
Cooking time: 15 minutes
Total time: 25 minutes
Ingredients
1 pound lean ground pork


1 onion


1 clove of garlic


1 teaspoon of fresh shredded ginger


1 can of sliced water chestnuts


2 cups fresh shredded cabbage


1 medium bell pepper


Few sesame seeds


8 large rolls.
Sauce

1 clove garlic


1 teaspoon shredded fresh ginger


Half teaspoon sriracha sauce


1 cup chicken broth


1 tablespoon of brown sugar


1 tablespoon of rice vinegar


One-fourth cup of soy sauce


1 tablespoon or cornstarch.
Directions
First, take a bowl and combine all the sauce ingredients in it. Stir together and set aside for now.


Dice the onions and mince the garlic.


Heat a large pan and cook ground pork, onions, garlic and ginger on medium to high heat until pork is browned.


Combine ingredients in a bowl and set aside.


Chop bell pepper and water chestnuts and add them into the pan. Cook for another 2 minutes.


Stir up the sauce ingredients in the bowl before adding them to the pork mixture. Wait for sauce to boil. Once it does lower the heat to medium. Let it cook for about 10 minutes or until the sauce has thickened.


When you're done cooking remove from the heat and set aside.


Take a roll and cut it in half, place cabbage on one half of the roll. Add the pork mixture on top of cabbage and garnish it with sesame seeds. Prepare remaining 7 rolls in this way.


You're now ready to enjoy your Asian sloppy joes.
Servings
With this recipe you can enjoy 8 Asian sloppy joes.
Health Benefits
This meal is rich in minerals such as calcium, magnesium, iron and phosphorus.


It also contains plenty B complex and C vitamin, especially B1 which benefits our nerves and muscles function.