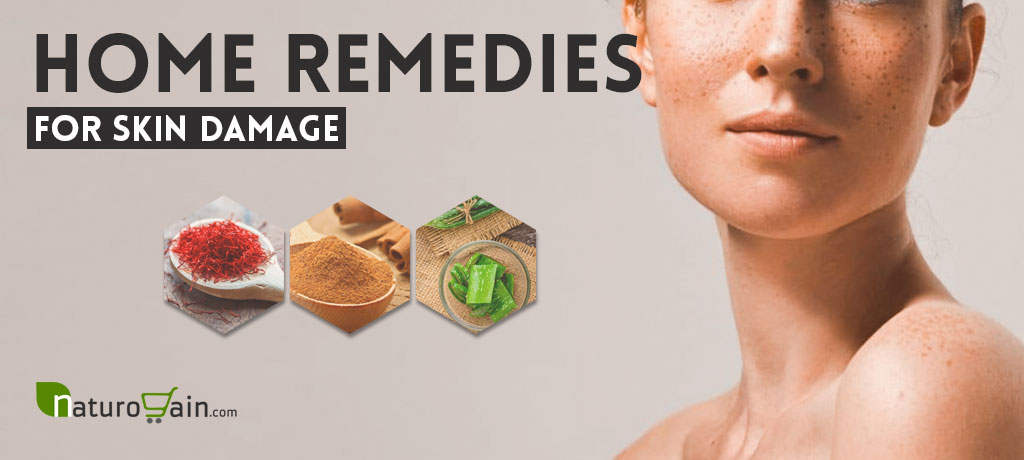 Our tightly packed and hectic lifestyle has taken a toll on our skin. Skin has very special needs that require both internal and external care.To maintain a soft supple skin, there is a requirement of adequate nourishment, exfoliation and moisture on a timely basis. Every women aspires to have a beautiful flawless skin and in order to get an instant glow, she puts make up to cover up her damaged imperfections. But, she doesn't know that she is providing more harm to her skin than doing well to it. Cosmetics contain chemicals and bleaches that are detrimental to our sensitive skin.
The quality of skin is highly deteriorated due to several factors like improper or insufficient diet, lack of care, overuse of cosmetic products, exposure to sun and dust particles. What else is a better option for proper rejuvenation of our skin other than using herbal remedies? There's none. The most significant thing about home remedies for skin damage is that they do not cause any harm to our skin just like some allopathic medicine or cosmetics. They provide complete nourishment and repair the damaged skin permanently when used on a daily basis. We are now introducing some easy to follow and highly effective home remedies for skin damage that helps repairing depleted skin.
You may like reading:
Home Remedies for Skin Damage
Home Remedies for Sensitive Skin
Home Remedies for Skin Damage
Saffron and Milk Cream – Home Remedy to Cure Skin Damages
Saffron is very beneficial for our skin and helps in skin toning, fighting acne, brightening skin color and removing tan. It is one among the best home remedies for skin damage when the skin is damaged due to overexposure to sunlight. Soak a few saffron strands in two tablespoons of fresh milk cream overnight. Blend the mix together with the help of a spatula and apply it on face. Let it rest for 20 minutes and wash your face after that. It also moisturizes the skin and makes it glow.
Lime and Potato Pulp Pack – Home Remedy to Improve Skin Health
Potato juice from potato is a highly beneficial home remedies for skin damage that has been used since very old times to get rid of blemishes, dark spots, hyper pigmentation, dark circles and dull skin tone. Potato being rich in vitamin-C improves the overall skin health. Lemon is also an excellent bleaching agent that removes sun tanning. It also helps moisturizing of skin, removal of dead cells and dust particles. Take one small potato and peel it. Grate the potato to form a pulp. Add lemon juice of 1 lemon into this pulp to form a smooth paste. Apply it to face and neck region and remove after 15 minutes with water. The goodness of lemon and potato leads to a fairer skin.
Papaya Pack – Natural Remedy to Reduce Spots and Wrinkles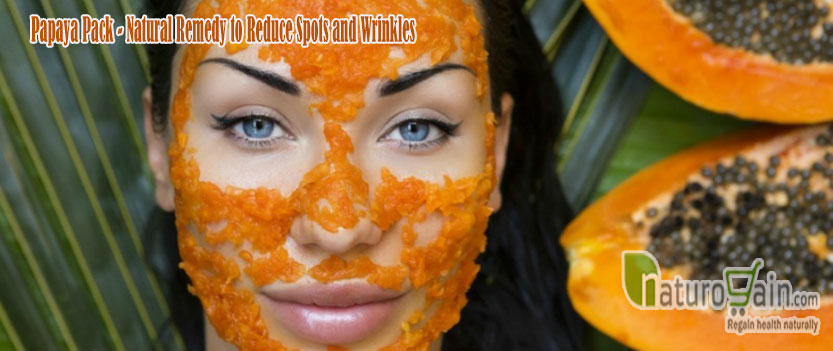 Papaya has enzyme papain that helps in rejuvenation of skin by removing damaged and dead cells. It also contains vitamin E, vitamin C and vitamin A and antioxidants which are fruitful to get a flawless skin. It forms a sun screen against sun and reduces signs of aging, spots and wrinkles. Cut few pieces of ripe papaya and grind it to make a pulp. Fill half a cup with this pulp and add 1 teaspoon of honey to it. Mix well to form a thick supple paste and apply on skin for 20 minutes. Wash it off later to get a soft glistening skin. It is a very effective and must find a place in one's home remedies for skin damage.
Cucumber and Lemon Toner – Home Remedy to Remove Marks
One of the other very remarkable home remedies for skin damage is cucumber and lemon toner. Lemon contains citric acid which contains bleaching properties. This helps in tan removal and fighting with acne. Take out juice of cucumber with the help of juicer and add 1 teaspoon of lemon juice. You can also add few drops of rose water into it to soothe your mind. Mix them well and apply it all over your face and neck with the help of a cotton ball. Keep it for 10 minutes and rinse it off with cold water to get amazing results.
Gram flour and Turmeric Scrub – Home Remedy To Get Rid of Dark Patches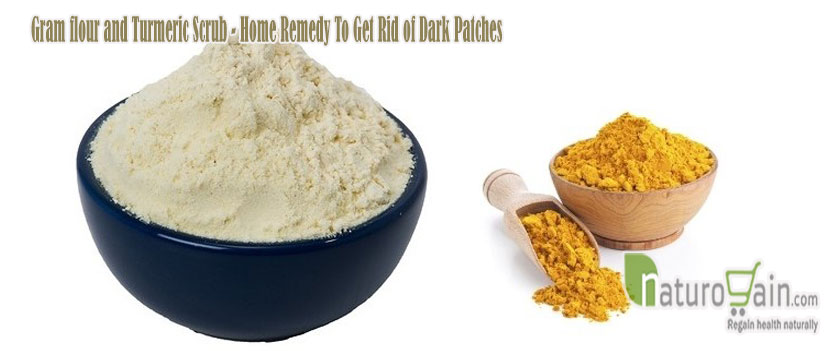 The healing nature of turmeric is widely known that makes it a must-have in the home remedies for skin damage. Turmeric paste is applied to cuts and bruises. In Indian tradition, turmeric and sandalwood pack is applied on a bride so that her skin radiates and glows as a part of their sacred customs. Turmeric or Haldi provides proper nourishment and removes dead skin cells and impurities from our skin. Turmeric is also an antiseptic that treats eczema and psoriasis. Gram flour also called Besan in Hindi is helpful in getting rid of dark patches and tanned skin. They both when mixed together give our face a brilliant shine. Take 1 teaspoon of turmeric paste and 1 teaspoon of gram flour paste. Add 1 tablespoon of raw milk to it and mix together to form a face pack. Apply it all over your face and keep it until it dries. Wash it later on.
Spinach and Carrot Mask – Natural Remedy to Remove Dead Skin Cells
Spinach is full of essential vitamins and minerals that help in the production of new skin cells by removing the dead ones. Having anti-inflammatory and anti-oxidant properties it is of great use in home remedies for skin damage. It removes toxins and cleanses the blocked pores and control the excess oil flow of our skin. Take some fresh green spinach leaves and wash them. Form a thick paste preferably with help of a pestle. Take out fresh carrot and likewise prepare its paste too. Mix 4 tablespoons of spinach paste and 2 tablespoons of carrot paste together. Also add half teaspoon of lemon juice to it. Apply it as a facial mask and wash after 20 minutes.
Be quick and start pampering your skin by these home remedies for skin damageand get marvelous results!
You may like reading:
Home Remedies for Rosacea
Home Remedies for Beautiful Skin
You May Like…