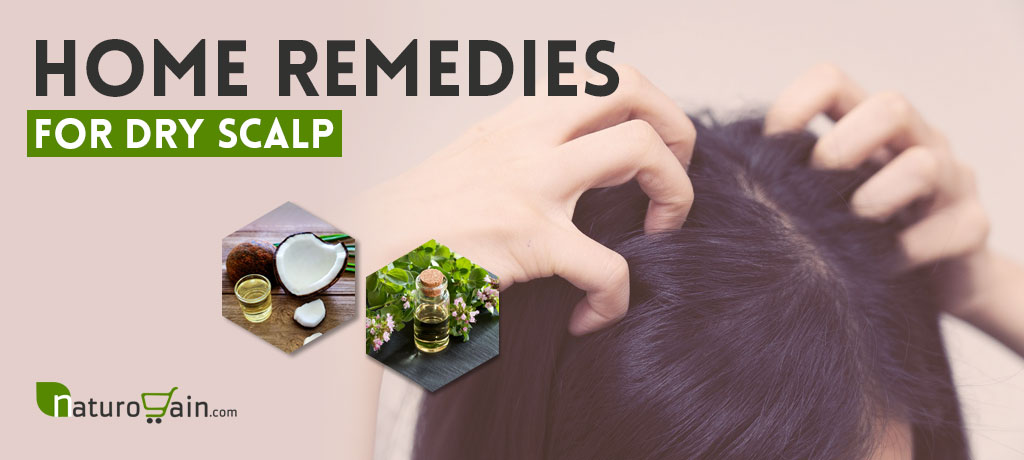 Dry scalp is the flaky, white and dry skin on our scalp that is often accompanied by frequent itching on head. There is no stopping a person from scratching his or her headvehemently when suffering from that instant, incessant and annoying itch. We do not even care if we are present in a professional or public space but this constant activity of us may be irritating for not only us but also to other surrounding people. Dry scalp when left untreated may also invite number of other hair problems such as dandruff, lice, frizzy hair, flaky scalp, itching and hair loss. To find out effective home remedies for dry scalp, we will first go through reasons behind this hair condition.
For more on hair care, check out:
Home Remedies for Dry Scalp
Natural Ways to Get Rid of Itchy Scalp
Root Cause
The main culprit behind itchy and unmanageable hair is dry scalp. Our head consists of sebaceous or oil glands that are responsible to provide natural oil and moisturization to our scalp. These sebaceous glands may get dehydrated and stripped off the natural oil due to several factors and hence may result into dry scalp. This condition may get triggered by a variety of below mentioned factors –
Over exposure to sunlight
Regular styling of hair – straightening, curling, etc.
Use of harsh chemical-based hair products such shampoos, dyes and conditioners
Taking improper diet lacking essential nutrients
Working in extreme conditions – excessive cold or excessive hot climates
Drinking less amounts of water
Skin diseases like psoriasis, eczema etc.
Stress and depression
What should be the correct procedure to treat them?
There is no cleverness in wasting your valuable bucks on chemical-laden hair products to treat the problem of hair loss. These harsh products may wreck havoc to the quality of our hair and cause more harm than doing good. Due to infrequent washing and cleaning of hair too, dry flakes are produced which form a lump and get mixed together. But, these flakes are loosely attached to our hair and can be easily removed by using various natural tips and best home remedies for treating dry hair and itchy scalp. Proper nourishment, moisturization and oiling can prove very helpful as home remedies for dry scalp and itching.
Home Remedies For Dry Scalp
Lemon Juice and Coconut Oil – Home Remedy to Get Rid of Dry Scalp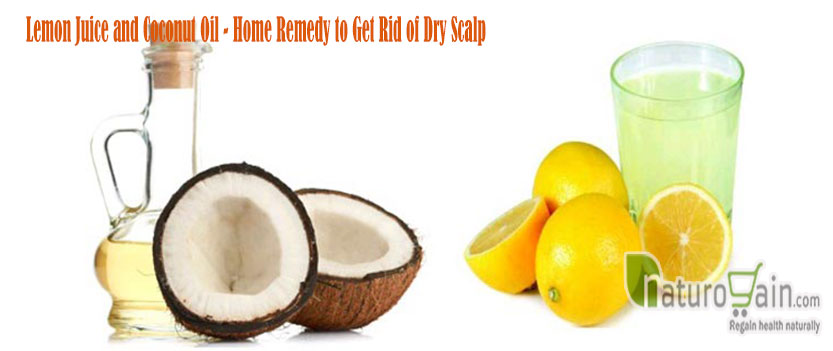 2 fresh Lemons
1 tablespoon Coconut
A combination of lemon juice and coconut oil is tailor-made for treating dry scalp and dandruff. Lemon is packed with antiseptic properties that help in shedding unwanted dead skin cells on our scalp. It also moisturizes our dry scalp and coconut oil provides adequate nourishment and hydration and hence finds their place among potent home remedies for dry scalp.
Procedure
Squeeze the juice out of these 2 lemons and mix 1 tablespoon of virgin honey into it. Stir the contents well and apply this mixture on the scalp of your hair. Gently massage for 5 minutes so that flaky particles get loose, soft and start peeling out of our head. Keep it for 15 minutes and then shampoo your hair with mild shampoo and normal water. You can wrap a wet and warm towel over your head so that all the nutrients are deeply seeped into the pores of hair. Repeat these home remedies for dry scalp every time before shampooing your hair.
Apple Cider vinegar and Beer – Home Remedy to Improve Hair Health

Half cup water
2 cups of beer
Half cup ACV
Apple Cider vinegar is undoubtedly a very important natural product providing so many wonderful benefits to our skin and hair. It serves as amazing home remedies for dry scalp as it has antifungal, antibacterial and anti-inflammatory properties that soothe irksome itching and keeps dry and flaky scalp at bay. Beer is an outstanding natural hair conditioner that will help mitigating the problem of dry and itchy hair scalp.
Procedure
Take half cup of Apple Cider vinegar, 2 cups of beer and half cup of water and mix them together. Dip a cotton ball in this mixture and then apply it on your scalp with the help of this cotton. Now, gently massage over your head with fingertips for a couple of minutes. Let it rest for 10 minutes and then wash off your head with an herbal shampoo. One can apply these home remedies for dry scalp and itchy head every time before shampooing one's hair.
Honey and Olive Oil – Home Remedy to Cure Dry Scalp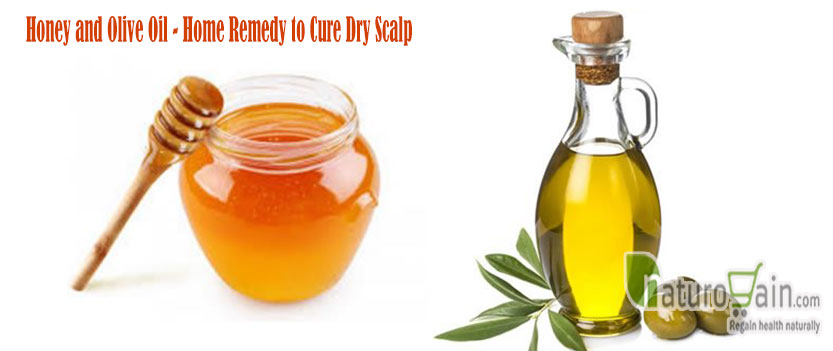 Half Cup of Virgin Olive Oil
2 Teaspoons of Honey
Together, honey and olive oil serve as excellent home remedies for dry scalp as honey is rich in anti-inflammatory properties that alleviate drying of scalp, keeps itching at bay and olive oil makes our hair healthy and nourished.
Procedure
Warm half a cup of virgin olive oil and add 2 teaspoons of honey to it. Mix the contents well and massage your head and scalp gently for 3 to 5 minutes. Let it sit for 15 to 20 minutes and wash your head with mild shampoo later on. One can also apply wet towel treatment so that the oil and honey are absorbed deeply into our hair follicles. Try this natural measure to treat dry and irritated scalp twice a week and get amazing results.
Fuller's Earth – Home Remedy to Remove dry and Itchy Scalp
1 small cup of finely ground Fuller's Earth powder
1 teaspoon lemon juice
1 teaspoon coconut oil
Using Fuller's Earth or Multani Mitti is also one among the best home remedies for dry scalp as it helps a great deal in moisturizing our hair naturally. It provides stupendous results when combined with lemon juice and coconut oil.
Procedure
Make a fine paste by adding 1 teaspoon each of lemon juice and coconut oil in a cup full of Fuller's Earth powder. Apply thick layers of this natural hair pack over your scalp and keep it for half an hour or till it gets partially dried. Rinse your hair with lukewarm water and mild herbal shampoo. Try this simple herbal treatment for getting rid of dry scalp once in a week.
Mayonnaise – Home Remedy for Glowing and Smooth Hair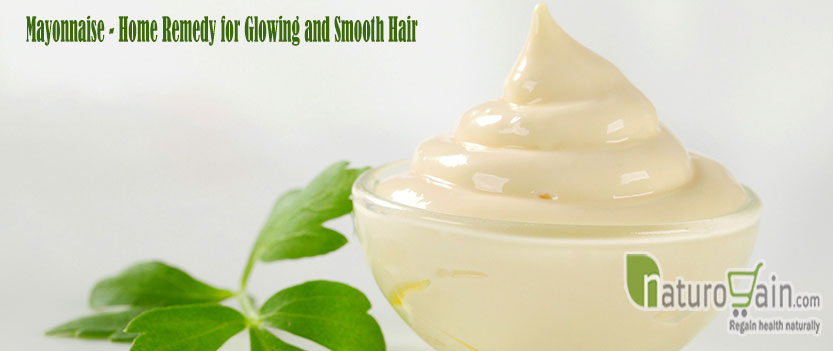 Mayonnaise is a combination of eggs, vinegar and vegetable oils that provide deep nourishment and moisturization to our dry scalp. It is a complete package for home remedies for dry scalp as the eggs provide essential nutrients, vinegar acts as disinfectant and vegetable oil provides moisturization.
Procedure
Apply thick layers of mayonnaise over the scalp and thoroughly massage over it for 5 minutes. Wrap your head with a plastic bag or shower cap and let it remain as it is for 30 minutes. Rinse your hair by shampoo and normal water. Use this herbal remedy twice a week to get rid of dry and itchy scalp.
Avocado and Tea Tree Oil – Natural Remedy to Remove Dead Cells and White Flakes
1 teaspoon of tea tree oil
2 ripe avocadoes
1 teaspoon of honey
Avocado is a rich source of vital vitamins, oils and minerals that will effectually treat dryness of scalp and itching problem. Hence, it makes our hair silky, glossy and moisturized. Tea tree oil is helpful in removing dead cells and white flakes from our hair all thanks to its marvelous antibacterial and antifungal qualities. When used in conjugation, they provide optimum results as powerful home remedies for dry scalp.
Procedure
Scoop out the inner pulp of avocado fruit and add 1 teaspoon of each tea tree oil and pure honey. Blend them together to get a fine paste and apply generous layers of it over your scalp. Wrap a shower cap over your head and keep it for at least half an hour. Wash your hair with help of mild herbal shampoo and normal water and try it out 2 to 3 times a week. It will definitely serve as excellent home remedies for dry scalp.
So what are you waiting for? Get luscious, healthy and hydrated hair, free from dry scalp and itching within weeks by using these easy, cost effective and fantastic home remedies for dry scalp!
You may like reading:
Home Remedies for Dry Hair
Home Remedies for Dry Hair
You May Like…