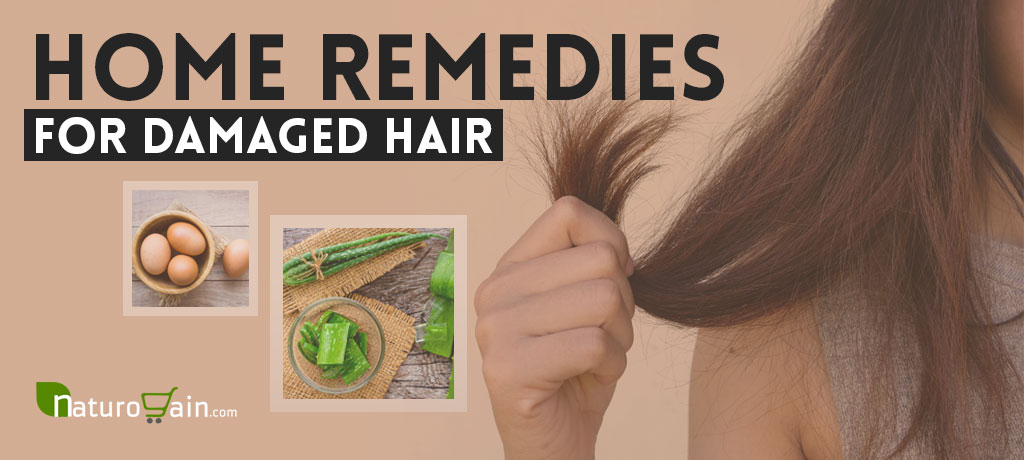 A hair is made up of three layers i.e. innermost medulla, middle one cortex and outermost cuticle. Due to some reasons like use of harsh hair shampoos and products, exposure to extreme climate, excessive use of hair styling tools like blow dryer, curling iron, straightening plate, etc., exposure to sunlight (UV rays), swimming in highly chlorinated water, malnutrition, certain diseases like underactive thyroid, chemical-based salon treatments, stress and improper hair care this outer layer gets damaged. As a result, hair becomes damaged and looks dry, brittle and harsh in texture. They lose their natural luster and are accompanied by split ends, hair fall and itchy. Such disastrous hair is too difficult to style and become tangled too easily.
But the gory mistake people make that in order to treat these damaged and dry hair, they take the aid of salon treatments and medical shampoos which started this problem in the first pace. It's just as preposterous as making the problem even worse. Instead of all that, one must use certain herbal measures made by kitchen ingredients called home remedies for damaged hair. These homemade remedies for dry hair are highly useful, effectual, safe, simple and cost effective in practice. So let's us discuss them in detail without much ado-
Home Remedies for Damaged Hair
Coconut oil
The simplest of all
home remedies for damaged hair
is head massage using coconut oil. Good head massage for 5 to 10 minutes helps the oil seep deep into the hair follicle and impart all the essential nutrients to them. The dryness of hair is cured and our hair becomes adequately healthy. So one must massage the scalp with coconut oil and keep it overnight. Follow this by washing your hair in the morning with an herbal shampoo. Massage thrice a week.
Avocado
The avocado fruit is a 'wonder fruit' for our hair as it is rich in fats, proteins, natural oils and vitamins that heal the rough hair and act as powerful home remedies for damaged hair. Take half to one avocado pulp and add 1 to 2 teaspoon soft olive oil depending on your hair's length. Blend these two together to form a consistent hair pack. Apply this over hair and keep for an hour. Wash off with an herbal shampoo later on. Use this twice a week.
Eggs
If you are scouting to make your hair gain back the previous shine and moisture then using eggs is just perfect for you. They consist of proteins and fats which are deemed as good for hair. Since centuries, eggs have been employed to nourish the hair as they act as potent home remedies for damaged hair. Whish one egg and apply it all over your head. Massage gently and leave it on for 30 minutes. Wash your hair with herbal shampoo. One can put on egg mask twice a week.

Aloe Vera
Aloe vera is yet another of the great
home remedies for damaged hair
as it is filled with humectants and hair soothing properties. It is also loaded with vital enzymes, vitamins and amino acids that improve the health and nourishment of hair. Scoop our around 4 tablespoons of fresh aloe vera gel and then mix it with a tablespoon of coconut oil. Apply this hair mask all over the head and keep for 15 to 20 minutes. Follow this by washing off with an herbal shampoo and apply this as herbal remedies for damaged hair once in a week.
Banana
The remarkable micronutrients like potassium, vitamins, natural oils and moisturizing qualities make banana one of the astounding home remedies for damaged hair. Banana makes hair soft, shiny and sufficiently hydrated. Simply mash 1 ripe banana and apply it all around the head. Keep it as it for an hour and then wash off with normal water and herbal shampoo. Do this twice a week.

Olive Oil
Just as coconut oil massage, olive oil is also counted as outstanding
home remedies for damaged hair
. It consists of vitamin-E, antioxidants as well as fatty acids that carry out the work of moisturizing and nourishing hair too well. Take some warm olive oil and massage your head with it for 5 to 10 minutes. Now wrap a wet towel around your head and keep it for half an hour. Wash off with an herbal shampoo and repeat this thrice a week.
Butter
Butter also serves amazingly as one of the mind blowing home remedies for damaged hair. Take pure unflavored butter and apply it all over your scalp and hair shafts. Cover your head with a shower cap and leave it for 30 minutes. Now wash off your hair with a mild shampoo and repeat this once in a week.
Humidifier
Last but not the least among all natural remedies for damaged hair is a room humidifier. It is not exactly an herbal measure for hair per say but it plays a pivotal role in keeping them hydrated to prevent excess dryness. So always use a room humidifier especially in dry climates to provide ample moisture to your hair.
You May Like…