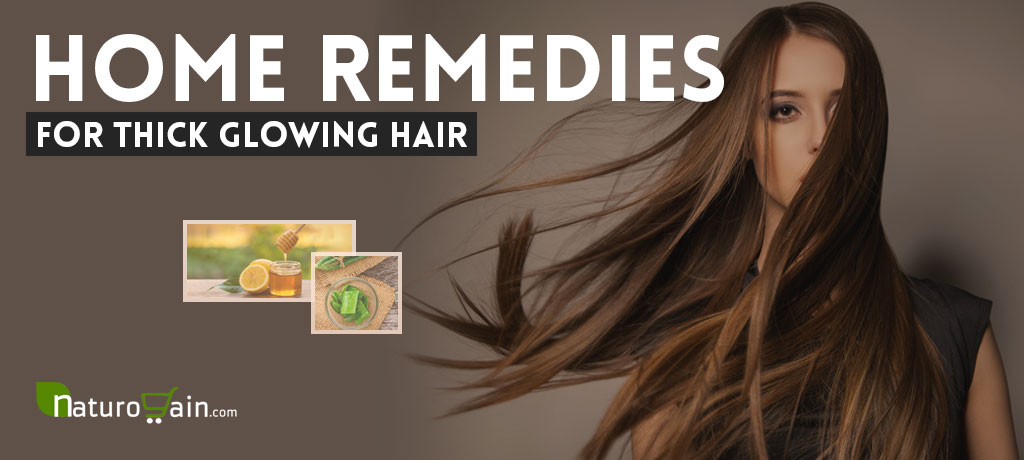 Thick, beautiful and bouncy hair is undoubtedly one of the greatest assests of one's beauty. So, to preserve them, extensive care and nourishment has to be provided to our delicate hair on a daiy basis. Bald patches and thin hair make a person look old and senile. Well, balness and hair fall is an imminent problem and after a certain age no one is able to escape it. But, these days due to stark shift in the lifesyle and mannerisms of people has invited a vast array of hair problems that too at a young age. Hair fall, thinning, dullness and lackluster hair are quite common hair problems to name a few.
There are many time-tested and purely natural home remedies for thick glowing hair that we are unaware of. These measures are gazillion times helpful to get voluminous and thick hair than those expensive and hazardous hair salon treatments. Reasonable cost, no harmful effects, safety, readily available, simple to use and effectiveness are some of the exciting advantages of these home remedies for thick glowing hair. Keep on reading to discover wonderful home remedies for thick glowing hair to beat your hair problems.
For more on hair care, check out:
Home Remedies for Hair Care
Home Remedies for Black Hair Care
Home Remedies for Thick Glowing Hair
Eggs – Home Remedy to Improve Hair Health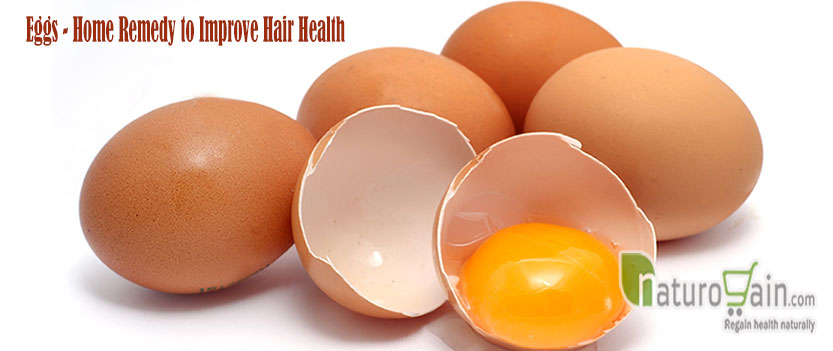 Pampering your hair with proteins is a wonderful way to achieve dreamy, silky and voluminous hair. As we know, eggs are packed with proteins that are stupendous home remedies for thick glowing hair. Crack 2 eggs in a bowl and whisk them properly. Dampen your hair with little amount of water and then apply this egg mask all over your hair. Allow it to sit for half an hour and then wash your hair with shampoo and lukewarm water. Nourish your hair with this protein treatment every once in a week.
Coconut Oil – Home Remedy for Thicker and Shinier Hair
Coconut oil is packed with many essential nutrients such as lauric acid, capric acid, vitamin-E and fatty acids. They kill microbes present in our hair and nourish them to get volumnious and silky hair. Women in Asian countries use this oil oil as one of the potent home remedies for thick glowing hair. Warm a bowl of coconut oil and massage it gently on your scalp in circular motions by pressing your fingertips over it. Now work your hands towards the length of your hair and reach to the ends. Soak a towel in a bucket of warm water and then wring it to squeeze out excessive water. Wrap your head with this towel and keep it for 30 to 45 minutes. This is done to ensure that the oil reaches deep pores and follicles of hair and get effectively nourished. Wash your hair with a mild shampoo later on. Don't forget to massage your hair with coconut oil everytime before washing your hair.
Aloe Vera – Home Remedy to Treat Hair problems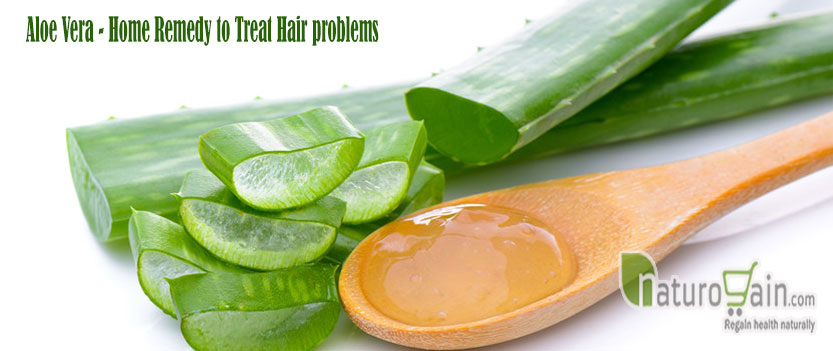 Aloe vera gel of aloe vera plant has outstanding moisturizing properties and is very helpful in attaining thicker and shinier hair. It is one of the utterly popular home remedies for thick glowing hair. Apply the gel extracted out of aloe vera leaves and massage your hair with it for 10 minutes. Keep it for 30 minutes and then wash your hair with normal water. Repeat this twice a week. Drinking a cup of aloe vera juice daily also serves to be an excellent tonic for your hair.
Onion – Home Remedy to Gain Thick and Glowing Hair
We think about onions only as staple food and a powerful ingredient to make our dishes tastier. But onions also serve as outstanding home remedies for thick glowing hair. Shallots and red onions are best type of onions for this purpose. Onion juice contains sulphur which opens up the pores of our head and strengthens our locks. It also escalates collagen production and enhances blood circulation. All these processes add up to thick, glowing and bouncy hair. Take 2 to 3 small onions and chop them into fine pieces. Grind them in a blender and extract the juice from them. Apply this onion juice over your scalp and let it rest for 15 to 30 minutes. Wash your hair with shampoo. Try this home remedy two times a week.
Henna Leaves – Home Remedy to Get Rid of Damaged and Dry Hair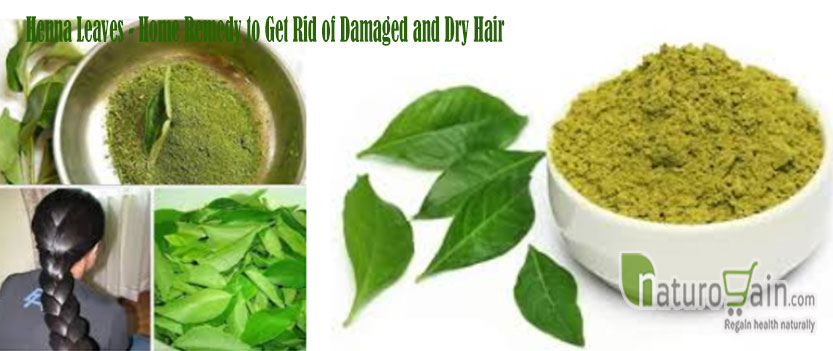 Henna leaves not only provide natural color to our hair but also makes them strong, soft and conditioned. They are highly famous home remedies for thick glowing hair. Take 12 to 15 fresh henna leaves and grind them with some water to get a smooth paste. Keep it for 1 or 2 hours and then apply it all over yor hair, section by section. Cover your hair with a shower cap and then keep it for 1 hour. Wash your hair with mild shampoo and luke warm water. Do this once in a month to avail amazing results.
Avocado – Home Remedy to Improve Thickness of Hair
Avocado hair mask proves highly beneficial and acts as one of the topmost home remedies for thick glowing hair. It comprises of rich amounts of vitamin-E which contributes to the overall health of every shaft of our hair. Avocado also moisturizes and thickens our hair naturally. Mash an avocado and half a banana together to form a fine paste. Apply thick layers of this mixture over your hair and keep it for 30 minutes so that all the nutrients are absorbed. Wash your hair with water and mild shampoo. Repeat this for once in a week.
Yogurt – Home Remedy to Provide Healthy and Glowing Hair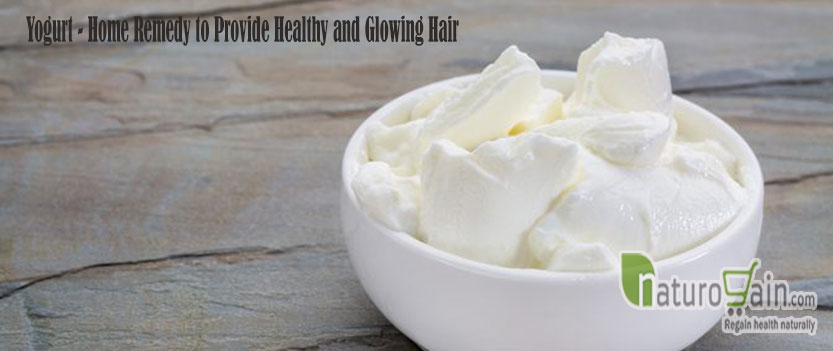 Yogurt is packed with lactic acid that is used to keep away the scalp infections. Yogurt is also a splendid natural conditioner that adds volume to our hair and makes them bouncy. These qualities makes it one of the excellent home remedies for thick glowing hair. One needs to take fresh and sour yogurt which is not flavorized and apply it gently all over your scalp. Reach all along the length and ends of your hair and keep it for 20 minutes. Wash your hair with cold water and see the marvelous results for yourself. Try this natural remedy for 3 times a week.
Olive Oil – Home Remedy to Improve Strong and Thick Hair
Just like massaging with coconut oil, olive oil massage will also strengthen and thicken our hair. Gently massage your hair with warm olive oil using your fingertips and keep it for 30 to 45 minutes. Use wet towel treatment to seep in the oil into the pores of your scalp. This method is recommended if you do not want to keep oil in your hair for a night. Otherwise, olive oil massage during night and keeping it overnight would be sufficient to absorb all important nutrients to our head. Shampoo your hair the next morning. Apply this oil twice or thrice in a week.
For more on hair care, check out:
Home Remedies for Black Hair Care
Home Remedies to Straighten Hair
You May Like…