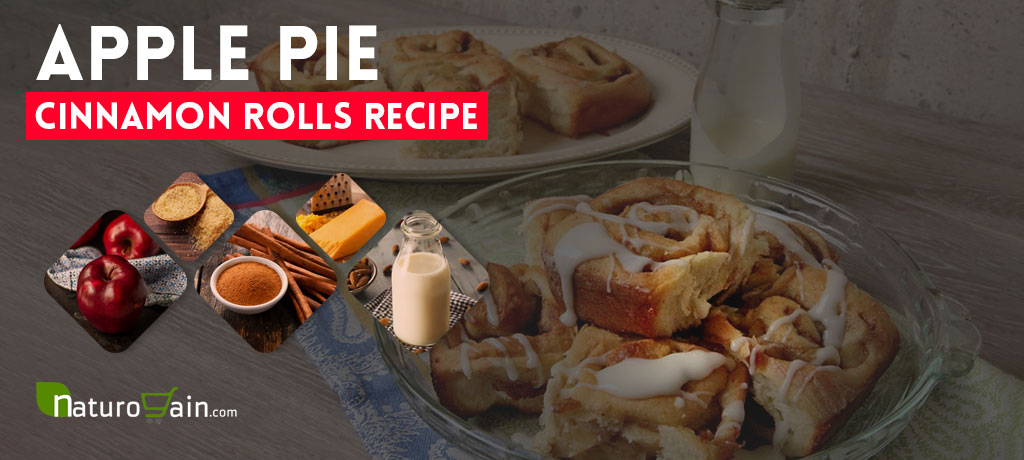 These glazed apple pie cinnamon rolls are perfect holiday snack and they are worth every minute of the work. The sweet cream cheese glaze brilliantly complements the tartness of the granny smith applesand works well with the sweet-spicy flavor of the cinnamon in a perfectly baked crust, balancing the flavors consistently until the very last bite.
You may like reading:
Blueberry Egg Rolls Recipe
Home Made Egg Rolls Recipe
Preparation and cooking time
Preparation time:
2 hours 15 minutes
Cooking time: 1 hour 30 minutes
Total time: 3 hours 45 minutes
Ingredients
For the dough

4 cups all purpose flour


Two and half teaspoons active yeast


Half cup lukewarm water


Half warm milk


Half cup brown sugar


One-fourth cup melted unsalted butter


1 egg


One and half teaspoons salt.
Filling

6 granny smith apples (Peeled, cored and diced)


One and half cups brown sugar


6 tablespoons melted unsalted butter


3 tablespoons ground cinnamon


Half tablespoon crushed nutmeg.
Icing

Half cup softened cream cheese


1 teaspoon vanilla extract


3 tablespoons melted butter


One and half cup sugar.
Directions
For the dough
Take the yeast and little sugar in a small bowl and add lukewarm water to it. Stir and keep it aside. Allow it to dissolve completely. It doesn't take more than 10 minutes.


In a large mixing bowl, add melted butter, remaining sugar, salt, egg followed by warm milk. Mix thoroughly using an electric mixer on low speed saves a lot of time and energy. Now, add the flour slowly along with the yeast mixture. Keep mixing until it gets hard to mix anymore.


Once it's hard, take it on a smooth surface and knead the dough for 5 to 7 minutes for the dough to rise later.


Keep it aside for 2 hours and allow it to rise. It's done when the dough looks double the size you left it. Work on the filling while the dough rises.
Filling

Heat butter in a large pan on medium flame.


Add the apples and sugar to the butter and simmer the flame.


Sauté the apples until they are covered with sugar and acquire a brown color.


When they start to caramelize, take them off the heat. Sprinkle the crushed nutmeg, while hot, and give it a slight mix.
Icing
Mix the cream cheese, vanilla extract, butter and sugar until you get a light and fluffy consistency.
Cinnamon rolls
Now, pick a smooth surface in your kitchen and flour the surface. Roll out the dough into a large 16×24 inches rectangle. Sprinkle the powdered cinnamon on the dough and spread the filling evenly. Be sure not to leave any vacant spots. Roll the dough to one side along with the filling such that you get a long 24 inches roll. Cut the roll at desired lengths to get small rolls.


Take a baking pan covered with parchment paper and place the cinnamon rolls. Heat for 1 hour until the dough rises.


Preheat the oven to 375 degrees Fahrenheit and bake the rolls for 25 minutes until they turn golden brown.


Right when they are out of the oven, spread the icing and let it glaze due to the heat.


Let it cool for some time after which the glazed super yummy cinnamon rolls will be ready to serve.
Servings
8 to 12 cinnamon rolls.
Health Benefits
Cinnamon is the best remedy for stomach infections and also reduces the irritable bowel syndrome which causes bloating. It acts as a food preservative because it is effective in inhibiting bacterial growth.


Granny smith apples contain high amount of fiber and they also help in weight loss.
You may like reading:
Crescent Jalapeno Poppers Recipe
Asian Variation of Sloppy Joes Recipe