Are you looking for effective solutions to tackle cellulite? Explore these home remedies for cellulite that promise to transform your skin texture naturally.
Home Remedies for Cellulite
Cellulite affects almost all women, especially in the stomach, thighs, legs, and buttocks.
Cellulite is a free-floating deposition of fat cells that gives the appearance of a dimpled surface.
Cellulite or sub-dermal fats prevent women from wearing shorts and miniskirts of their choice, but instead, they have to hide them by wearing fully covered trousers or jeans.
This issue is due to an unhealthy lifestyle, improper diet, poor blood circulation, hormonal changes, sitting or standing in one place continuously, and genetic effects.
This cellulite worsens with time, so it becomes mandatory for us to resolve the problem immediately.
People who are frustrated by cellulite often take the option of quite risky and expensive surgeries. But we have an outstanding natural solution to this problem in the form of home remedies for cellulite.
These homemade cellulite remedies slow the occurrence of orange peel skin and remove them gradually.
Reduce Cellulite Naturally at Home
Water – Home Remedy for Cellulite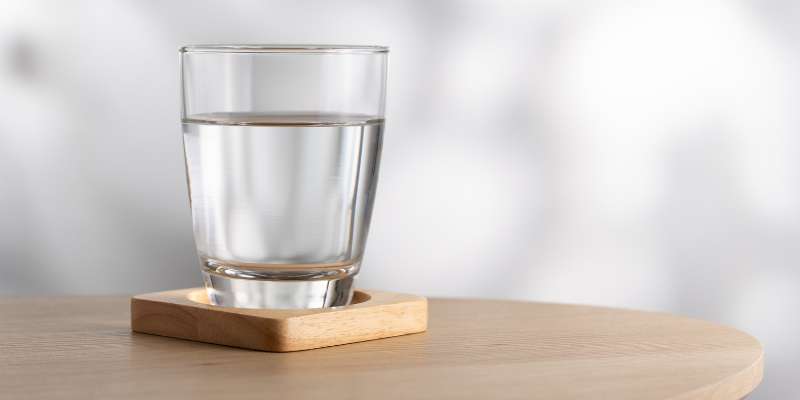 Drinking plenty of water is the rule number one among these home remedies for cellulite because lack of hydration in our body leads to this unwanted fat build-up.
Many toxins are trapped in this cellulite, and intake of lots of water is counted as an efficient measure to remove all of them naturally.
So, drink 2 to 4 liters of water daily to get rid of cellulite and toxic substances.
Coffee – Home Remedy to Get Rid of Cellulite
A powerful coffee scrub is next n this list of remarkable home remedies for cellulite on the stomach, thighs, legs, and buttocks.
It does wonderful exfoliation of dead skin cells and stimulates the generation of new skin cells. Blood circulation is also enhanced by using a coffee scrub.
Make a scrub by adding one-fourth cup full of ground coffee beans, three tablespoons of sugar, and enough water to get the required scrub consistency.
Now apply this scrub all over the cellulite doing a firm massage for around 10 minutes.
Take a bath afterward and repeat this as a natural remedy for cellulite twice a week.
You May Like…
You may like reading:
Natural Remedies for Cellulite
Dry Brushing – Home Remedy to Treat Cellulite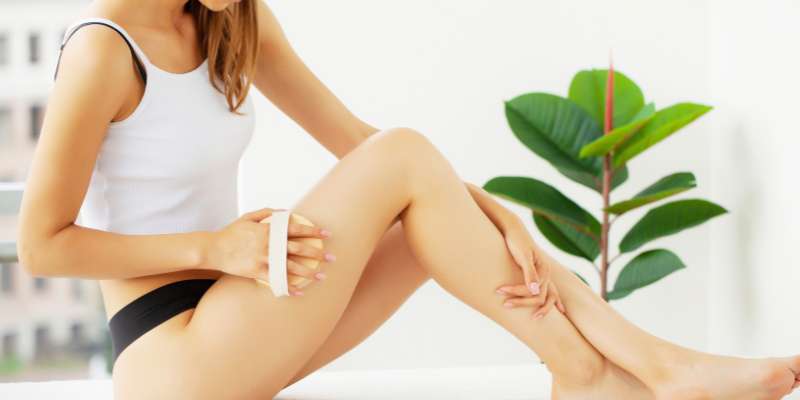 Dry brushing is also counted as one of the beneficial home remedies for cellulite reduction, as it aids in the improvement of blood circulation and lymphatic drainage.
It also reduces the build of harmful toxins and the appearance of undesirable cellulite.
One must make sure to use a body brush made out of natural fibers. Make sure the brush, as well as your body, is dry.
Keep brushing from the left to the right side of your body. Focus more on brushing over the cellulite-rich area and heart to improve blood circulation.
Do this for 5 minutes, then shower to wash away dead skin cells.
Coconut Oil – Home Remedy to Prevent Formation of Cellulite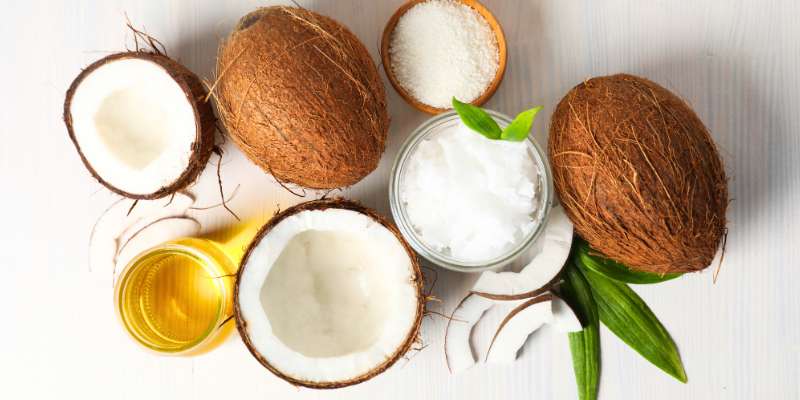 Coconut oil is also widely-acclaimed as mind-blowing home remedies for cellulite. Using coconut oil as a natural moisturizer after dry brushing is useful for reducing extra fat.
It also has other notable benefits, like improving metabolism, reducing appetite, and enhancing skin elasticity. So massage daily with coconut oil to avail all these great benefits.
Also, adding two tablespoons of coconut oil n to your food does wonders.
Diet – Home Remedy to Cure Cellulite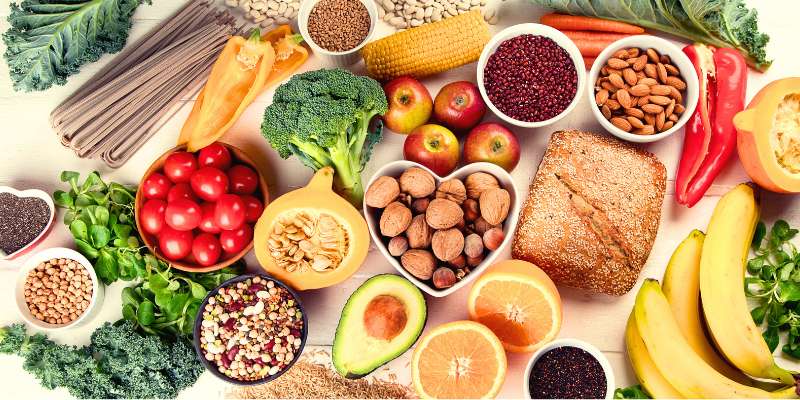 Nutrition is very important when discussing home remedies for cellulite to get rid of excessive fats. Increase your fiber intake and reduce having simple sugars and carbohydrate-rich diet.
More fibers will aid in the proper digestion of eaten food. Replace your unhealthy unsaturated vegetable oil with healthy cooking oils like coconut, almond, or olive oil, which are rich in omega-3 fatty acids.
Eat fresh fruits and vegetables like cucumbers and melons, especially those with higher water content.
Green leafy veggies like spinach help detoxify the entire body and improve skin health and elasticity.
Juniper Oil/Rosemary Oil – Home Remedy to Treat Cellulite
Essential oils such as rosemary and juniper also have positive effects as home remedies for cellulite.
They reduce fluid retention and shed off excess cellulite naturally and quickly. They also aid in flushing out trapped toxins from the muscle and fat tissues.
Create outstanding herbal oil by adding 30 drops of juniper oil and 30 drops of rosemary oil in one-fourth cup of olive oil.
Massage this mixture using firm pressure over the extra fatty areas for around 10 minutes.
You will notice fantastic results when your skin becomes toned and firm within a month.
Apple Cider Vinegar – Home Remedy to Cure Cellulite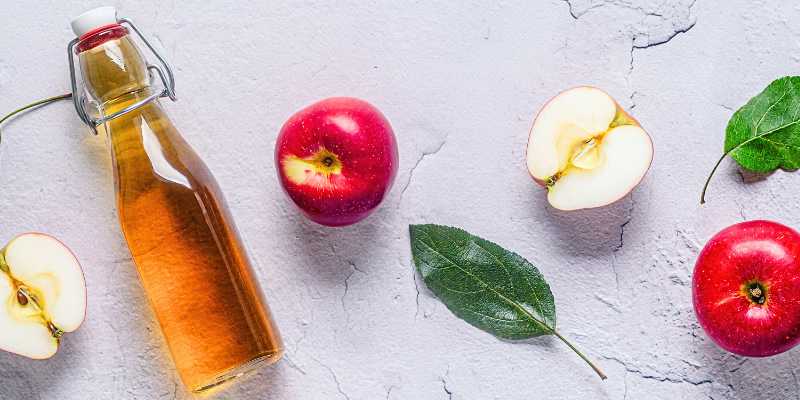 Apple cider vinegar is rich in calcium, minerals, potassium, and magnesium source.
All these are key elements to flush out toxins in the stomach and thighs and reduce bloating. It not only acts as one of the useful home remedies for cellulite but also helps in the weight loss process.
Add two tablespoons of ACV with a teaspoon of honey and drink it two times daily.
Alternatively, make a mixture by adding two tablespoons of water and one tablespoon of apple cider vinegar with a few drops of honey.
Rub this on the cellulite-rich regions of your body for a few minutes and then leave it as it is for half an hour.
Repeat this natural treatment twice a day to get noteworthy results.
Hence, follow these simple herbal remedies for cellulite reduction for a month and be free to wear stylish clothes.
You May Like…
Embrace the goodness of natural remedies – pin now for a healthier you!