Green Tea Extract Pills for Weight Loss
A simple cup of Green tea is reckoned as the healthiest drink on the planet. This tea is natural and its leaves release in hot water certain compounds that are wonderfully beneficial for overall health.
Today Green tea extract pills are available which saves you from taking the trouble of preparing a cup of tea a few times in the day.
For the complete range of benefits of Green tea, you need to drink 3-4 cups of it every day. At every place, you may not find good quality tea leaves or you may be forced to carry your teabags with you to get a daily dose.
Green tea extract pills are convenient ways which with one dose fulfill your daily requirements and keep you fit and healthy.
These help people in staying in shape and shed excess weight. Green tea extract pills are excellent natural fat burner supplements.
These improve the results of exercise and dietary control and provide quick success to people trying to put-off excess weight.
These natural fat burner supplements are suitable for men and women of all ages and work even in the absence of regular exercise.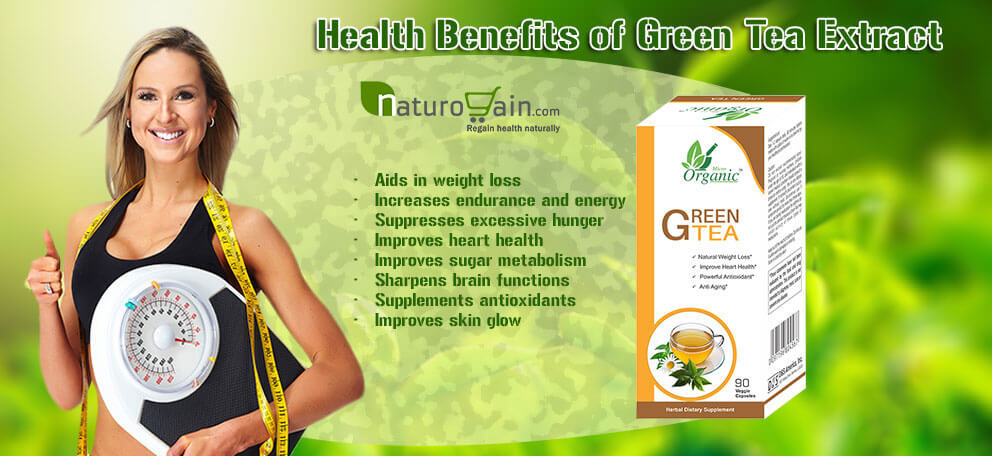 Natural Weight Loss Supplements for Men and Women
Green tea extract pills work as efficient natural fat burner supplements by speeding-up metabolic rate. These possess properties that increase Basal Metabolic Rate and burn down fat and sugar for energy production.
The faster rate of metabolism keeps burning fat even when the body is resting. It utilizes deposited fat for energy production when fat intake is lesser.
Speeding-up metabolic rate is a major aim of exercises recommended to people to shed weight. Regular exercises increase the energy requirements of the body and push the body to produce energy by increasing BMR.
By consuming Green tea pills for weight loss one gets a faster metabolic rate even without exercise and maintains it all day long.
Natural fat burner supplements by increasing metabolic rate improve energy supplementation. Higher energy supplementation to bodily systems and organs increases physical activities and the rate of fat burn.
The properties which improve the flow of blood of Green tea extract pills are very useful for bringing the body in shape.
These pills come with compounds that open-up blocked and constricted blood vessels. When the body has reached each and every part of the body via blood flow it dissolves fat deposited in difficult areas like buttocks, belly, thighs, etc.
Green Tea Pills to Suppress Appetite and Lose Weight
Green tea extract pills are effective fat burners and also suppress untimely and excessive hunger. These make dietary control easy and reduce calorie intake.
When the body gets a lesser amount of calories and demands more energy production metabolism burns down deposited fat.
People often fail to control their appetite some due to habit and foody nature while others due to internal digestive issues. Green tea pills for weight loss affect obesity in two ways.
Firstly these promote fat burning rate and secondly help in curbing excessive calorie intake.
These natural fat burner supplements cleanse the digestive tract, eliminate toxins and also regulate bile secretion.
Green tea has properties to boost-up liver functions and increases the body's ability to metabolize fat. The healthy digestive system promotes healthy eating patterns, suppresses the urge to eat frequently and spicy and also digests food faster for nutrient supplementation.
People fond of eating sugary foods collect a lot of calories by eating sugar-rich foods daily, consumption of these supplements allows one to control the urge to eat sweets and reduce calorie intake.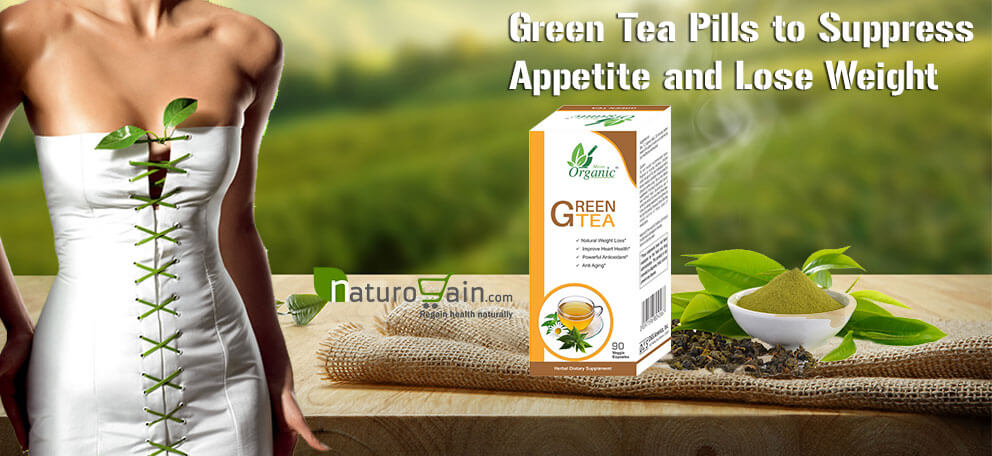 Green tea extract pills are reckoned as the best natural fat burner supplements due to their fast, safe, and effective properties.
These supplements in the presence of dietary control and exercises bring faster results and allow a person to gain shape quickly.
Even in the absence of exercises these allow control over diet and reduce fat to bring back the shape of the body. Green tea pills for weight loss are very useful as they provide many other health benefits which also support a fitter and stronger body.
These natural fat burner supplements handle even indirect causes of obesity like hormonal problems and faster-aging process etc. efficiently.
Green tea pills for weight loss provide long-lasting results. These pills burn fat naturally and maintain a faster metabolic rate for a longer duration.
Green tea pills for weight loss by correcting internal malfunctions improve overall health which maintains fitness till a later age.
These are effective remedies for curing issues like acidity constipation, bloating, etc. which harm healthy eating patterns and cause untimely hunger.
Green tea weight loss supplements are safe for men and women of all ages and provide desired results by invigorating the internal natural mechanism of the body.
These Organic green tea supplements can be taken without a medical prescription as they are natural and free of side effects.