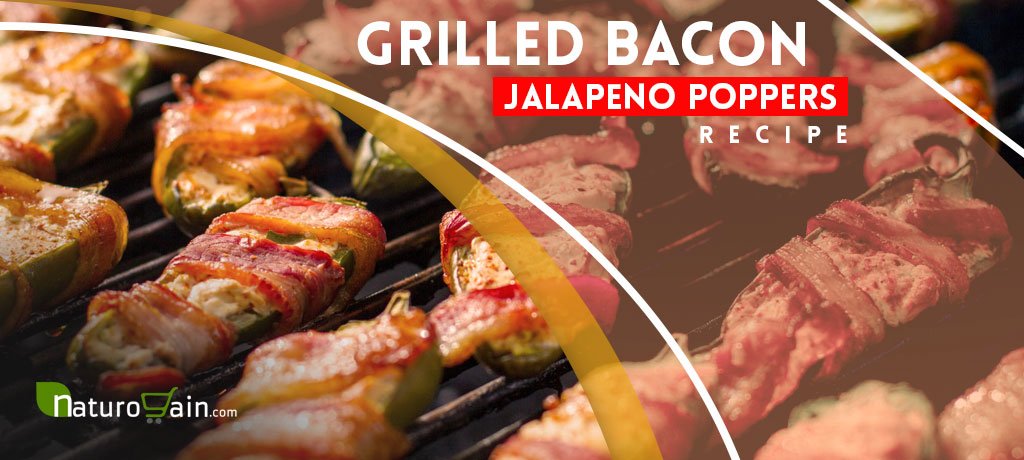 Grilled bacon jalapeno peppers are an awesome light snack to serve as appetizers or anytime snack. It is a wonderful combination of spicy jalapenos with grilled bacon and cheese (if you want). These little poppershave mouthwatering taste. This dish is easy to make and too yummy to eat. It is a wonderful treat for your loved ones. Jalapeno poppers are an excellent treat for fun loving people. If you want something meaty with jalapeno or spices then grilled bacon jalapeno poppers is the best option for you. This dish can taste more awesome if served with cheese. This is a dish to die for.
This recipe does not require lot of time and can bring happiness on the faces of your loved ones. It is the best recipe for mothers who want to give their children some healthy snack which is their favorite too. Everyone loves grilled bacon jalapeno poppers no matter what their age is. It is a great dish to have as a fun during summers or outdoor parties. They taste the best when served hot. It can be served with tomato sauce or mustard. The crispy crust of these grilled bacon jalapeno poppers adds more beauty its taste and make more people its addict.
You may like reading:
Crescent Jalapeno Poppers Recipe
Bacon Jalapeno Cheese Balls Recipe
Preparation and Cooking Time
Preparation time:
15 minutes
Cooking time: 20 minutes
Total time: 35 minutes
Ingredients
Cream cheese = 8 ounces


Bacon = 8 slices (cut in half)


Jalapeno peppers with stem = 16


Cheddar cheese = one and half cup (shredded)


Garlic powder = one and half teaspoon


Parmesan cheese = 2 tablespoon shredded


Mustard (optional)


Tomato sauce (optional)
Directions
Preheat your oven at 350 degrees. You can also use grill. It depends upon your choice.


Take a bowl and add cream cheese, parmesan cheese, garlic and cheddar cheese. Mix these ingredients well so they are finely folded together.


Now take jalapeno peppers and cut them length wise from the middle, taking the white membrane and seeds out from a small spoon, only the hollow peppers are left behind. Chop the remaining pieces of peppers finely and neatly.


Mix these peppers in the cheese stuffing and fold it neatly.


Stuff the hollow pieces of pepper with cheese mixture and add small amount of mixture so it can stay inside.


Grill these peppers for about 30 minutes till they become juicy and properly cooked. Keep on grilling till they achieve dark brown color and a crispy crust.


After grilling place the grilled bacon jalapeno poppers on the serving dish and add some shredded cheese over them.


Your deliciously small bites of grilled bacon jalapeno poppers are ready to be served and enjoyed.
Servings
This quite easy recipe can serve 5 to 6 persons and make their tummies thankful for having this dish.
Health Benefits
Grilled bacon and jalapeno poppers have fats, carbohydrates and proteins.


They have all the nutrients from bacon.


They have all the minerals and benefits from cheese.
You may like reading:
Blueberry Egg Rolls Recipe
Bacon Wrapped Grilled Cheese Roll Ups Recipe