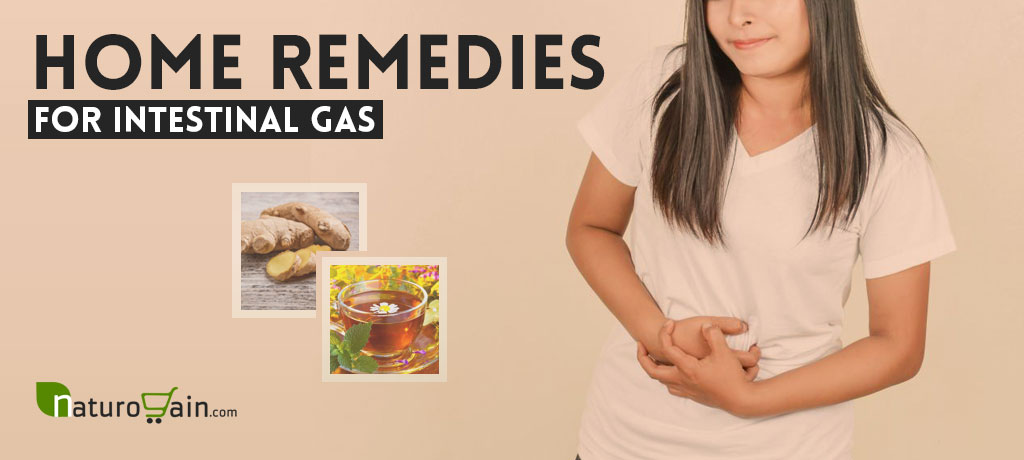 Intestinal gas is formed during digestion of carbohydrates, fat and other complex foods in large intestine. This gas can cause bloating, feeling of fullness, flatulence and discomforting symptoms like belching and acidity. Regular formation of this gas can lead to constipation and slow down metabolic process in digestive tract. Chronic intestinal gas formation can bring in changes in appetite, feeling of heaviness, reduced diet intake, abdominal pain and cramps and diarrhea. People eating greasy and fatty foods suffer with this problem; those who have slow metabolism due to other reasons also face excessive intestinal gas formation.
Medicines like diuretics, sedatives etc., sedentary lifestyle, food allergies, food intolerance, dehydration and consuming too much beverages are common causes of the problem. Home remedies for intestinal gas relieve the symptoms of the problem and save you from embarrassment and also prevent its occurrence to shield health from its ill-effects.
Home Remedies for Intestinal Gas
Infusions of few herbs work as excellent
home remedies for intestinal gas
. Chamomile or peppermint tea in the morning and two-three cups during the day provide numerous health benefits and also prevention of intestinal gas. If you are suffering with excessive gas formation add one teaspoon each of caraway, chamomile and coriander leaves to a cup of water, boil the mixture and strain. Drink this cup of tea to relieve intestinal gas. Both of these are the best
home remedies for intestinal gas
.
Ginger is excellent digestion booster, its regular intake in the form of spice in cooking or as salad ingredient is perfect for preventing intestinal gas. This spice improves digestion, facilitates digestion of complex foods by promoting secretion of digestive enzymes and also helps in preventing toxicity. Prepare a cup of tea by crushing a one or two inch long piece of ginger, add it to a cup of water and boil the mixture for few minutes. Later strain and drink the liquid. Repeat this few times in a day and gain sound digestion and freedom from excessive gas formation.
Like ginger holy basil teas also work as home remedies for intestinal gas. If preparing tea is difficult you can chew few leaves of holy basil on regular basis in the morning to improve digestion, cleanse digestive tract and prevent formation of gas. For preparing tea just add 5 to 6 leaves of holy basil to a cup of water and boil it for few minutes, later strain or consume without straining.

Apple cider vinegar is digestive and also dissolves excessive acids in the stomach. Mix two tablespoons of vinegar in a glass of water, sip this mixture through the day, it will digest complex food items and will also prevent gas formation. You can also utilize immense benefits of apple cider vinegar by just sprinkling it over salad during meals. Both ways apple cider vinegar work as potent
home remedies for intestinal gas
.
Garlic also work as effective aid to prevent intestinal gas and maintain healthy digestion but use in cooked form as in raw form it releases gas during digestion. The best way to use garlic is by preparing its soup, just add 5 to 6 crushed cloves to two cups of water, boil the mixture after adding cumin seeds and black pepper, take off the mixture when garlic is completely soft and consume with meals or between meals to prevent gas and maintain digestion. Few garlic cloves in cooking also work as the best home remedies for intestinal gas.
Drink two to three glasses of buttermilk after adding a teaspoon of dry roasted carom or celery seeds and black salt. These glasses will improve digestion and also work as home remedies for intestinal gas. Add one or two teaspoons of cinnamon powder to a cup of water, give it a boil and consume two to three times in a day to prevent gas formation. You can also add one and half teaspoon of cinnamon powder to a glass of warm milk and one or two teaspoons of honey, drink this glass of milk anytime during the day to maintain sound digestion and prevent gas formation. All of these are the best home remedies for intestinal gas.

Baking soda provides immediate relief from existing gas in stomach. Squeeze a lemon in a glass of water, add a teaspoon of black salt and baking soda and drink the mixture. This will release gas in few minutes. If you suffer with regular gas formation or not eating at proper time just consume a glass of water mixed with a teaspoon of baking soda in the morning on an empty stomach, it will keep you free from gas during the day. All of these are widely practiced
home remedies for intestinal gas
.
Use Asafetida in cooking, this is magical spice which is excellent for keeping digestive disorder away and is beneficial in many other ways. It provides titillating aroma to the food and also increases appetite. Include foods like banana, papaya, apple and figs and drink plenty of water during the day.
You May Like…