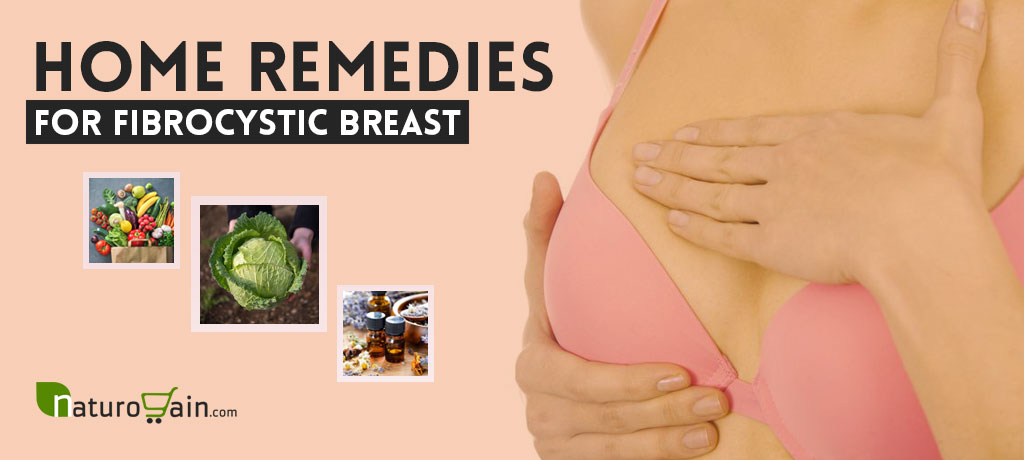 Fibrocystic breasts are not an outcome of any disease but it occurs due to unknown reasons mostly in women above the age of 30 years. Hormonal fluctuations which women face during menstrual cycle every month is believed to be mainly responsible for causing cysts or areas of dense fibrotic tissues. These after sometime become more evident and women can feel heaviness and fullness along with intermittent pain which worsens when women approach date of periods. These cysts and fibrotic tissues are non-cancerous and when they grow more these appear generally in upper region of breast or area close to armpits. These can also cause problems like itchy and painful nipples and breast tenderness. Home remedies for fibrocystic breasts are effective ways to relieve the symptoms and also reduce intensity of the problem effectively.
Home Remedies for Fibrocystic Breast
Hot compresses are very popular methods to relieve the symptoms and reduce the intensity of the problem. You can dip a towel in warm water, take it out and flush excess water out by wringing it, spread this towel over you entire bosom and let it stay for few minutes. Apply few times and repeat the remedy at least two times in a day to gain substantial relief from symptoms of the problem. These are widely practiced home remedies for fibrocystic breasts.
Prepare a mixture by adding few essential oils; these oils also work as potent home remedies for fibrocystic breasts. Take half teaspoon of calendula oil, 10 drops of lavender essential oil and 3 drops each of ginger and chamomile essential oil. Add these oils and their mixture to half cup of warm water. Dab a cotton ball in the mixture and press against cysts for few minutes. Repeat few times till mixture remains warm. Repeat this remedy one more time during the day it is one of the best home remedies for fibrocystic breasts.
Hot compresses with rice bag are also popular home remedies for fibrocystic breasts. Take some rice and add these to a glass of boiling water, let them steep for half an hour and later take them out. Fill a cloth with the rice and apply over cysts or fibrotic tissues. Check before applying that the bag is not too hot. Let them stay till the bag is warm and you can repeat the remedy one more time during the day to gain relief from troubling symptoms.

Ice packs or cold compresses also work well to relieve the fullness and heaviness in busts due to cysts and fibrotic tissues. Corns work well for providing cold compresses, put some corns in a freezer and let them stay for two-three hours, later take them out and fill bag big enough to cover entire breast, it is better if you fill two bags in place of one. Cover your busts with these bags and wear a bra to keep them in place, let them stay till they remain cold and you can repeat again after few hours to gain considerable relief from the problem. These cold compresses also work as tremendous home remedies for fibrocystic breasts.
Cabbage leaves are useful for treating problems related to breasts; these are effective home remedies for fibrocystic breasts and engorgement. Take two cabbages leaves and cut them to make them fit over your busts, create holes for your nipples to poke out and put leaves in refrigerator for half an hour. Take out and roll with any round object to break the veins of leaves and lay over your busts. Wear a bra and let them stay for 20 minutes. You can repeat this remedy one more time it is very beneficial home remedies for fibrocystic breast which relives tightness, heaviness and fullness in busts.
Flaxseeds also provide one of the easy to use home remedies for fibrocystic breast. Dry roast flaxseeds and store them in an airtight container. Take a tablespoon out and consume in a day, these are wonderful for curing numerous disorders including cysts and fibrotic tissues in female's bosom. You can use this remedy even when there are no symptoms of the problem.

Apply evening primrose oil for few weeks. This is one of the best
home remedies for fibrocystic breasts
which are helpful for many but ineffective for some. However since it does not cast any side effects so no harm in trying, apply this oil generously over entire bosom and let it stay, you can apply before bedtime and wash off in the morning. If it does not work discontinue after few weeks.
Stay active and eat orange, red, green and yellow vegetables and fruits. Taking a dose of vitamin E oil is also beneficial for relieving the symptoms. You can consume vegetable oils, fortified cereals, green leafy vegetables for necessary dose of vitamin E or take a supplement every day. Reduce your salt intake and stay hydrated always, drink at least 10 to 12 gasses of water during the day and cut down tea, coffee, beverages and alcohol intake to minimum.
You May Like…