What is Irvingia Gabonensis?
Irvingia Gabonensis is natural weight loss supplements made of mainly African Wild Mango or African Mango as the main ingredient. African Mango seed extract has natural properties to bring down weight.
The seeds and also pulp of fruit have been used to make natural weight loss supplements that reduce excess weight in a natural manner. Obesity is largely due to a higher intake of calories and lesser calorie burn.
Exercises and dietary control shift this balance in the opposite direction and cause less calorie intake and higher calorie burn.
But these efforts require regularity and as long as the internal body mechanism is not supporting these efforts fail to promote weight loss.
It is due to this reason that millions of people are unable to shed any substantial fat off from the body even after the regular gym and dietary control.
Supplements made by Irvingia Gabonensis seed extract possess properties that correct internal body mechanism and magnify effects of dietary control and exercises.
Even in the case of people who are unable to control diet and exercise regularly use of these supplements provides considerable weight loss in the much lesser effort.
People who are at risk of becoming obese like the ones involved in sitting jobs or pregnant women can use these supplements to stay in shape and prevent fat from getting deposited in the body.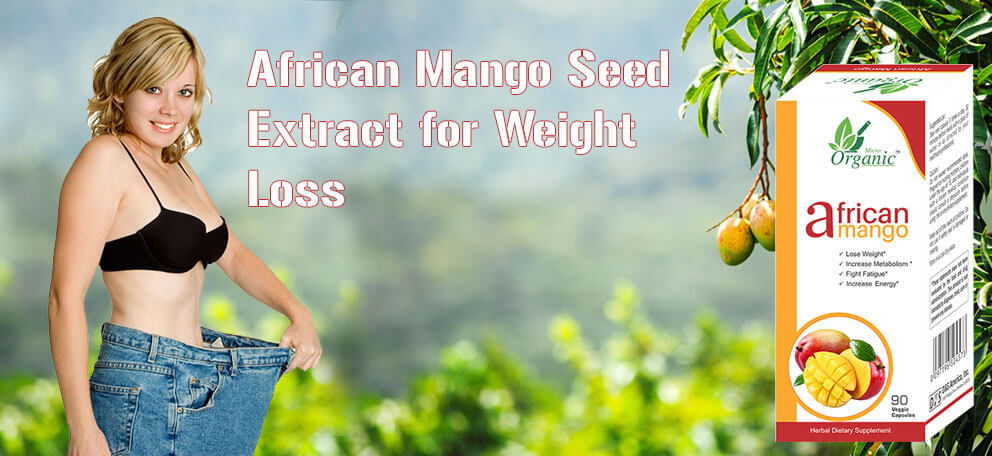 African Mango Seed Extract for Weight Loss
In a variety of researches and analysis African Mango seed extract has been found the most effective natural weight loss supplements.
This extract comes enriched with fatty acids in long-chain formation. These fatty acids allow the smooth absorption of fat into cells where it is utilized for energy production.
The fat that does not get absorbed in the cells and floats with blood is most dangerous for health and also causes obesity. Such fat gets deposited in arteries and veins and also in tissues to increase weight.
The fat deposited in blood pathways puts pressure on the heart and reduces stamina. Poor heart functions reduce the supply of food and oxygen to cells of the body and bring weaknesses.
Due to low energy and regular fatigue physical activity of the body gets reduced which further facilitates fat deposition.
By promoting better utilization of fat African Mango extract pills Irvingia Gabonensis improve energy levels and prevent fat deposition.
The blood pathways of the body remain clear and free from blockages that maintain energy and stamina. Clear blood vessels also improve heart functions and boost-up the health of the entire cardio system.
By taking this natural weight loss supplements one gains higher physical activity which helps faster metabolism and also improves the rate of fat burn.
African Mango seed extract capsules bring down weight in a natural manner by improving its utilization in the body. People controlling their diet and exercising regularly get more energy for longer exercising sessions and faster weight loss.
People leading a physically less active lifestyle or eating untimely diet also maintain their weight and prevent it from going up with the support of supplements made of African Mango seed extract.
Natural Weight Loss Supplements for Men and Women
Irvingia Gabonensis African Mango extract pills are suitable for men and women both. Both the genders have a different set of problems and internal compositions, they also have quite different reasons of low-calorie burn although few are same, natural weight loss supplements of Irvingia Gabonensis possess properties which bring down weight in men and women equally efficiently and in a healthy manner.
Women generally are prone to suffer from low hemoglobin, iron deficiency, thyroid problems, etc. which makes them prone for obesity.
Apart from these hormonal changes due to menstruation, pregnancy, post-natal period, lactation, menopause, etc. are other causes of obesity in women.
Men may be free from these but their daily routine, stress, hormonal changes, etc. cause obesity in general.
African Mango extracts pills by improving fat utilization in the body provide wonderful results in the case of men and women both.
These improve muscle mass in men and maintain their fat burn ratio higher. In the case of women, these maintain metabolism and prevent deficiencies, and also improve their bone density to provide the shapely and curvy body.
Along with fatty acids, African Mango diet pills come with dietary fiber. Dietary fiber facilitates smooth digestion and also stays in the stomach for a longer duration.
Fiber reduces untimely and uncontrollable hunger and maintains a healthy calorie intake. These natural weight loss supplements are excellent for people suffering from obesity due to higher calorie intake.
African Mango seed extract by controlling calorie intake and increasing rate of fat burn brings down excess weight faster, improve energy and vitality.
If you are tired of trying and depressed due to obesity support of African Mango extract capsules brings down weight faster and allow you to get in shape quickly.
These natural weight loss supplements are harmless due to their natural effects. African Mango seed extract capsules in different researches and studies have shown heartening results in reducing weight harmlessly in people of all age groups.