Odorless Garlic Pills
Garlic is beneficial for health. This spice has medicinal properties and has been used for ages in many traditional medicines.
Its use as a spice in cooking is useful too, even during cooking this spice releases many healthy compounds and improves the nutritional value of food.
But many people avoid using garlic mainly because of the awful smell it produces. Even a couple of hours later eating garlic, one can have repelling breath.
Some people say that people eating garlic regularly even have body odor due to the essence of this spice coming out with sweat.
Garlic in scientific language is called Allium Sativum and it is available in pill and tablet form, generally called Allium Sativum supplements.
Odorless Garlic pills are excellent for those who love garlic due to their health benefits and for those who want to use it but do not because of the pungent smell.
Allium Sativum supplements provide all the benefits of raw garlic with each dose and even more without causing the repelling smell.
Although garlic is useful even as a spice but eating raw garlic is more beneficial than a cooked one. But the taste of raw garlic is not easy to handle either.
Many people just cannot tolerate its strong taste and avoid a very healthy easily available natural food item in their diet.
Odorless Garlic pills are an excellent alternative for people not relishing the taste of garlic. Allium Sativum supplements can be swallowed with water without fear of any foul smell.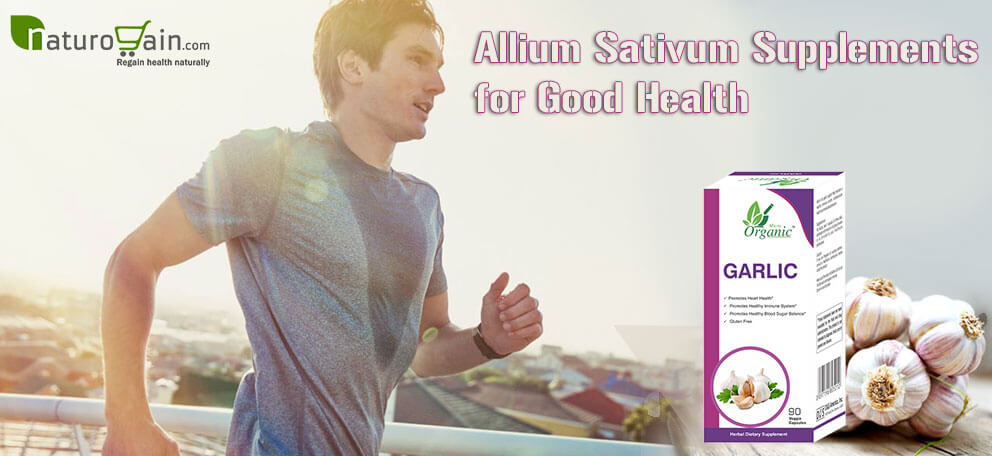 Allium Sativum Supplements for Good Health
Allium Sativum supplements are wonderfully beneficial for health. Odorless Garlic pills have multiple benefits and do not disclose your secret by causing smelly breath.
Odorless Garlic pills are anti-obesity. These supplements help in faster fat metabolism and reduce weight. Allium Sativum supplements are anti-hypertensive too, these maintain a smooth flow of blood all over the body and prevent the pressure of blood from going up beyond healthy limits.
Odorless Garlic pills possess the benefits of Garlic which improves athletic performance. This spice has been found as very useful for improving muscular endurance and strength.
People trying to shed weight can exercise for a longer duration due to the effects of garlic as it increases blood fluidity and maintains regular energy and nutrient supplementation to keep them active.
Odorless Garlic capsules also have a very positive impact on the lipid profile. These maintain the level of HDL higher which is good cholesterol and keeps LDL under control. Healthy lipid profiles are good for heart health.
So Allium Sativum supplements are good for the heart and cardio system and minimize the chances of serious problems like heart attack, stroke, etc.
Odorless Garlic capsules have a positive impact on the vital hormones of the body. These have shown wonderful properties in maintaining the level of growth and testosterone hormones healthy and keep harmful hormones like cortisol under control.
The use of Allium Sativum supplements boosts-up immunity as garlic is well-known for its effective qualities which control 30 different types of bacteria and viruses.
Garlic Pills for Cardiovascular Health
The multiple benefits of Garlic make Garlic pills for cardiovascular health the most dependable and effective supplements. The properties of Garlic which control healthy lipid profiles and suppress LDL levels in the body keep blood vessels clear.
Clear and blockage-free blood vessels allow smooth passage to blood and maintain a healthy heart. The ability to provide a healthy cholesterol level makes Garlic supplements for cardiovascular health very useful supplements.
Stress is directly linked to many health disorders. Stress leads to hypertension which puts pressure on the heart. People recommend Garlic pills for cardiovascular health due to their properties which curb stress levels.
Garlic is known for improving physical energy and endurance. It fights back stress and keeps one energized. Garlic pills for cardiovascular health are beneficial as they also prevent stress from settling in by affecting hormonal secretion.
Garlic has blood-thinning properties. It improves the fluidity of blood and keeps its circulation smooth. Garlic pills for heart health are very effective due to their blood-thinning properties.
These pills are useful because they improve physical activity as well. Energizing the body and improving oxygen supply via blood flow allows a person to remain physically active.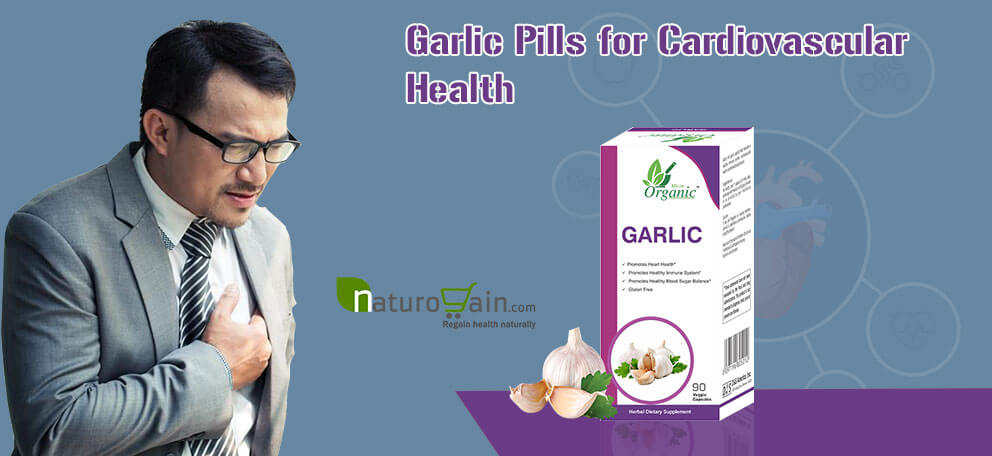 Pure garlic pills are excellent remedies for hypertension. These possess abilities to increase the fluidity of blood and make it thin.
Garlic pills for cardiovascular health and hypertension are very effective remedies due to their cholesterol-lowering and blood-thinning properties.
Natural Garlic capsules possess powerful antibacterial and anti-fungal properties. One can use Garlic supplements to boost immunity and stay protected from infections. Allicin-rich Garlic supplements curb even viral infections and keep health protected.
Even medical practitioners recommended Garlic capsules for heart health due to their cholesterol-controlling properties.
Natural Garlic capsules bring down high cholesterol levels by improving HDL and lowering LDL. Pure Garlic pills maintain healthy lipid profiles and also the speed-up rate of fat burn.
You can take 1 or 2 pills of natural Garlic capsules twice a day before meals with a glass of water. There are many garlic pills benefits that improve overall health and energy.
Pure Garlic pills are odorless and do not harm health in any manner. If you are taking blood-thinning medicines to consult your practitioner for dosage.