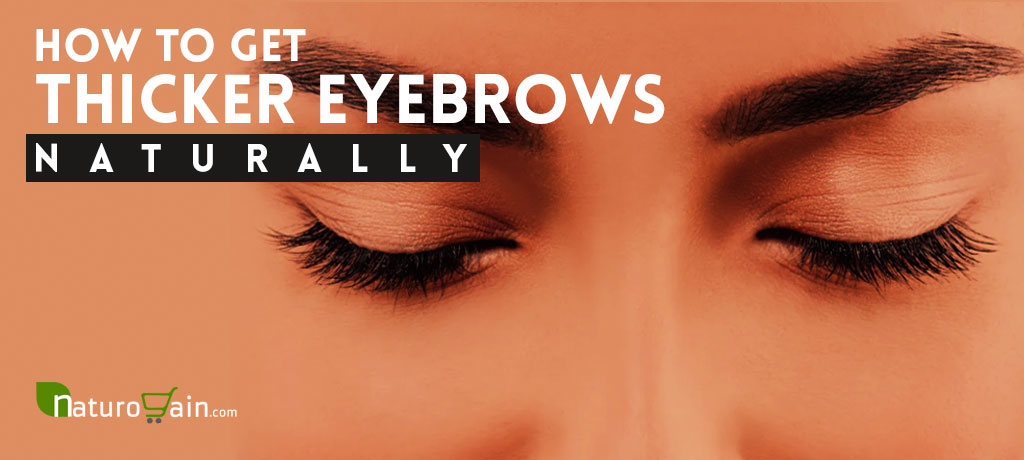 Natural Ways to Grow Thick Eyebrows Fast
By following simple steps and remedies you can grow thick eyebrows fast to accentuate your beauty. Fuller, longer and well-shaped eyebrows are part of beautiful face these days. Many men and women have very thin, light and even partial eyebrows which alter looks of a person. Many salons and parlours offer expensive solutions without any guarantee of results. Natural remedies are safe and effective ways how to get thicker eyebrows naturally in a short time. These are almost inexpensive compared to treatment offered by parlours and salons and easy to use.
How to Get Thicker Eyebrows Naturally?
Coconut Oil
Coconut oil is simple and effective remedy for thicker and fuller eyebrows. This oil is recommended for faster hair growth on head as well. It keeps scalp healthy and hydrated and goes deep into skin to stimulate hair follicles. People with partial, thin or broken eyebrows gain full and thick eyebrows by using this oil simply heat sufficient quantity of coconut oil and apply over hairs and skin underneath. Run your finger for few minutes in the direction of growth of hairs to entire length for few minutes. Leave it on or wash off after 20 minutes. Repeat twice in a day regularly it is simple way how to get thicker eyebrows naturally.

Almond Oil
Almond oil also works excellently to induce hair growth and provide thick and full eyebrows. This oil too can be massaged over the skin above eyes to stimulate growth of hairs. Apply for few minutes massaging the almond oil into the skin. Leave it on overnight and wash off in the morning. You can apply one more time during the day. Regular applications will bring faster hair growth and will also cover the bald areas. It is another simple way how to get thicker eyebrows naturally.
Onion Juice
Take one or two onions and process them through a processor. Collect the juice and take a cotton ball. Dab cotton ball in onion juice and apply over the area. Leave it dry for 15 minutes and wash off. Onion juice may be stinky but it stimulates hair follicles and promotes hair growth even over the patches without hairs. Onion juice is recommended to people with bald patches over head for getting faster hair growth and it works as simple remedy to how to get thicker eyebrows naturally as well.
Coconut Milk
Few other simple remedies can be used to grow thick eyebrows fast. Coconut milk is as good as coconut oil when comes to getting thick eyebrows. Apply coconut milk for few minutes so that skin absorbs the nutrition 1-2 times in the day. Leave it on or wash off after 20 minutes and repeat regularly. You can also use Aloe Vera gel for regular application over the region above eyes. Run your finger all the way for few minutes and apply fresh Aloe Vera gel. You can leave it on it not only stimulates hair growth but also provides shine to skin beneath,

Olive Oil
Likewise you can apply olive oil too over the area and leave it on overnight. Massage one more time during the day for faster results. You can also prepare a mixture by adding kohl and olive oil. Apply this mixture and leave it on overnight. Wash off and repeat regularly till you see positive results. Olive oil will stimulate hair growth and kohl provides darker shade to hairs to enhance looks of your face, both of these in combination are effective methods to grow thick eyebrows fast.
Lemon Juice
Lemon juice is also simple and very effective. Cut lemon into thin slices and rub these over brow region. Let the juice dry off and wash away. Repeat regularly lemon juice supplements vitamin C which is antioxidant to delay tissue ageing and grow hairs in the region. Milk improves skin softness and keeps it hydrated. Application of milk over brow region regularly 2-3 times in the day stimulates hair growth. It promotes growth of hairs over bald patches as well. Both of these are useful ways to grow thick eyebrows fast.
Castor Oil, Coconut Oil and Olive Oil
Castor oil is one of the popular and trusted remedies for gaining thick and full eyebrows. You can apply plain castor oil or dilute it after adding in equal parts with any carrier oil. Mix castor oil and coconut, olive or jojoba oil and massage it for few minutes over the region. Leave it on overnight and wash in the morning. You can apply during day as well and wash off after 20-30 minutes. Castor oil is recommended for thick and long eyebrows and eyelashes and is widely recommended as remedy for thin, partial or small eyebrows.

Fenugreek Seeds
Fenugreek seeds too are old and trusted remedies for thick eyebrows. Soak one or two teaspoons of fenugreek seeds in a cup of water and leave the mixture overnight. In the morning strain and grind the seeds to form a paste. Apply this paste over the region and leave it to dry. Wash off later and repeat regularly till you see off the problem. Fenugreek seeds are also well known for inducing hair growth even over region missing hairs completely.
You May Like…