Recover from Over Masturbation Effects
Masturbation is a practice of self-stimulation, which is good for a male's mental and physical health. It releases building pressure for mating and also provides calmness and soothing effects to the mind.
The healthy frequency of self-stimulation may differ from one individual to another as everyone is unique and has different endurance levels.
Medically hand-practicing for less than twice a week is healthy and would not affect health.
Males who practice masturbation more frequently tend to suffer from many side effects, and some of them can be as serious as impotence.
Males who practice over masturbation strain their reproductive system too much, which causes side effects. Semen production is an ongoing process in the male body.  When male ejaculates, the body replenishes lost semen with a new lot.
Due to excessive hand practice, males discharge semen regularly and too frequently, keeping the reproductive system working overtime.
This regular pressure on organs stresses them out and results in show-up in the form of low libido, poor quality of erections, premature ejaculation, thinning of semen, and impotence.
One can recover from these sexual weaknesses by taking proper herbal treatment.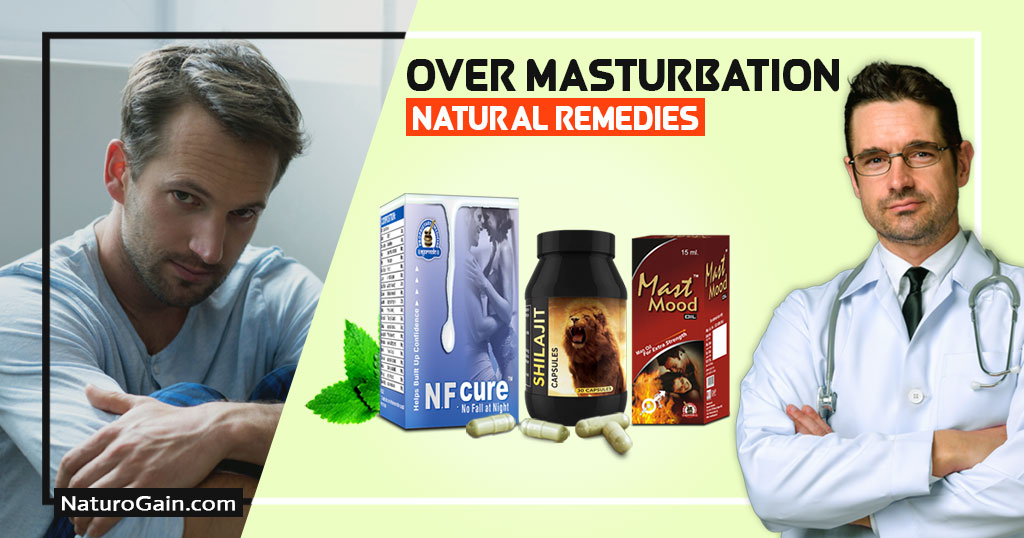 Recover from Bad Effects of Hand Practice
NF Cure capsules and Shilajit capsules in combination are holistic over masturbation cure.
These capsules are made using herbs as ingredients and provide multiple benefits to allow a male to recover from weaknesses inflicted by excessive hand practice.
NF Cure capsules possess highly effective herbs like Ashwagandha, Safed Musli, Shatavari, Kavach beej, Kesar, Swarna Bhang, Pipal, Jaiphal, Long, Atimukyak, Purushratan, Haritaki, Dridranga, Bhedini, Ksheerika, Kankaj, and Brahmdandi.
These herbs are excellent in improving the performance, energy levels, and endurance of male genital organs and rejuvenating the entire male reproductive system.
NF Cure capsule enhances testosterone hormone in the body. This hormone directs the flow of oxygen supply and nutrition to the male reproductive system to rejuvenate it.
The healthy and energized reproductive system recovers from the ill effects of hand-practice and performs at its peak level. These capsules energize the nerves and tissues of the male genital region.
Energetic and healthier tissues of male members absorb more blood and hold hardness for a longer duration.
On the other hand, energetic nerves provide a higher sensation in the male genital region to cause quick and intense arousals and delay ejaculation to allow a male to make love for a longer duration.
These benefits cure problems like ED, low libido, and PE and make a male a capable lover in bed. NF Cure capsules, by their ingredients, provide a quick and effective over masturbation cure.
Shilajit capsules improve a male's vitality by many times. These capsules possess Shilajit as the main herb. Shilajit herb alone supplements 85 different nutrients like minerals, vitamins, amino acids, and most rare Fulvic and Humic acid.
This herb also increases the frequency of energy-producing reactions in the body.
Supplementation of such a wide range of nutrients and an increase in energy-producing reactions enhance the body's energy levels by many times, which provides support to all the systems and organs of the body.
Shilajit capsules enhance immunity and strength of muscles, bones and improve stamina and strength immensely.
These provide renewed vitality to a male and upbeat physical health in no time to recover from sexual weakness and debilities caused by excessive hand-practice.
These capsules also possess herbs that are natural aphrodisiacs. These herbs energize and enhance the functioning of the male reproductive system and improve the quality and quantity of semen.
These capsules enhance a male's potency along with his vitality to provide a holistic over masturbation cure.
One can also utilize the benefits of Mast Mood oil by massaging the genital region and particularly male members to make results even better.
Males in the habit of excessive hand practice suffer lesser sensation in a male member, penile curvature, and too flaccid member.
Massage with Mast Mood oil enhances blood flow in capillaries and veins and improves nerve function.
The herbal ingredients penetrate the skin and enlarge tissues present the male member's shaft.
The extended size of the male member improves the size and quality of erections, and males can gain erections bigger by a few inches than before.
It also increases sensation in the member, which provides higher pleasure to males after penetration and cures problems like penile curvature quickly.
Mast Mood oil also improves nerve function and helps a male delay his ejaculation as long as he wishes to.
NF Cure capsules enhance the performance and functioning of the male reproductive system by curbing the ill effects of hand practice.
Shilajit capsules boost a male's vitality and potency to a higher level. Mast Mood oil makes erections harder, quicker, and bigger to provide over masturbation cure and make a male much better lover in bed.
By using NF Cure, Shilajit capsules, and Mast Mood oil, male not only recovers from sexual weakness but also gains higher virility, vitality, and vigor to stay active in bed and fertile for a longer period in life.
If this post helped you, please help others by sharing this post.