Nightfall Cure for Men That Works
Nightfall or wet dreams are pretty common and, to an extent, good for a male's health.
In a male's body, his reproductive system keeps on producing semen regularly. After some time, the body wants to discard old semen to replace it with new ones.
Night discharge within healthy limits is a process of the body to discard old semen. Though there is no general number that can determine its healthy frequency but medically, twice in a week is a number that is not considered as dangerous.
If a person faces nocturnal emission more than twice a week and experiences a burning sensation in urine or thinning of urine stream or obstruction in urine, he needs a nightfall cure.
Herbal treatment for ejaculation while sleeping is an effective and safe treatment that alleviates the problem and prevents ill health effects.
The body keeps on producing semen. If the frequency of sperm discharge during sleep is more than necessary, then over time, the body becomes weak. A higher frequency of wet dreams strains the reproductive system and makes it fallible.
A higher frequency of wet dreams can cause thinning of semen, low semen volume, impotence, early discharge, low libido, and erectile dysfunction even in a healthy and strong male.
It can also cause enlargement of the prostate gland, which causes the passing of semen with urine and burning sensation, pain, and obstructing urine flow.
Herbal treatment for ejaculation while sleeping can prevent these problems by curing too much night discharge.
Best Nightfall Cure
Experts widely recommend NF Cure capsules as an effective nightfall cure. This supplement is a purely herbal treatment for ejaculation while sleeping, which provides varied benefits.
This supplement works as an effective night discharge cure and enhances the lovemaking capacities of a male immensely. Hence this is known as the best herbal supplement for nocturnal emission.
This nightfall treatment contains herbs like Ashwagandha, Safed Musli, Shatavari, Kavach Beej, Kesar, Swarna Bhang, Pipal, Jaiphal, Long, Atimukyak, Purushratan, Haritaki, Dridranga, Bhedini, Ksheerika, Kankaj, and Brahmdandi.
These herbs have natural properties that are very useful in curbing the causes, which promote frequent nightfall and calming down its side effects.
NF Cure capsules strengthen the parasympathetic nervous system of the male body. This system prevents the involuntary passing-out of sperm during sleep.
When this system is nourished, the male gains more control over his ejaculation and prevents wet dreams.
Herbal ingredients of these capsules improve blood flow towards the male reproductive system and improve nourishment and oxygen supply to cells.
With higher nourishment, cells regenerate quickly and strengthen tissues of male reproductive organs.
Due to the poor rate of cell generation, tissues become weaker, which makes erection quality poor and weak. With stronger tissues, males gain powerful, quicker, and harder erections.
Higher blood flow also stimulates the nerves of the male genital region. Active nerves improve sensation and male gains quick and intense arousal.
These benefits cure low libido and erectile dysfunction, which may occur due to excessive night discharge.
By strengthening the parasympathetic nervous system, NF Cure capsules improve a male's control over his discharge. The powerful nervous system provides a male capacity to discharge at his own will and make love as long as he wishes to.
These benefits make a male an unbelievable lover in bed and capable of providing maximum satisfaction to his female partner.
These capsules work as nightfall cures and promote higher libido, longer staying power, strong erections, and higher semen volume.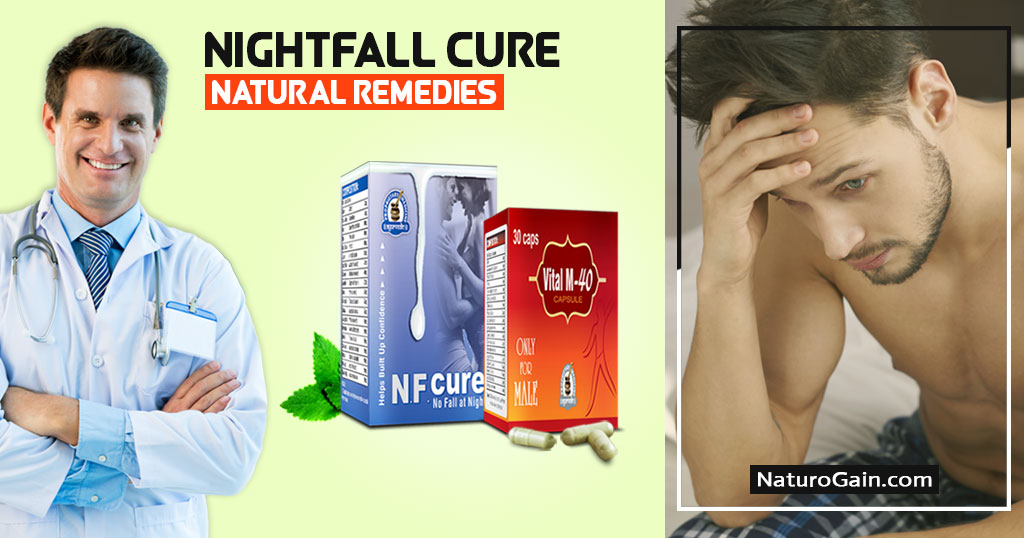 Stop Sperm Discharge During Sleep
Combining Vital M-40 capsules along with NF Cure capsules makes these herbal supplements an even better nightfall cure.
Vital M-40 capsules have been designed to enhance a male's vitality and vigor. These capsules contain herbs that are effective in improving strength, stamina, and physical power.
Vital M-40 capsules supplement nutrients in a bio-available form. When nutrients are made available in bio-available form, these get absorbed in the body quickly.
Herbal ingredients of Vital M-40 capsules enhance blood flow in the body; higher blood flow maintains the optimum supply of nutrition and oxygen to cells.
It ensures that cells generate speedily and make tissues and muscles of the body stronger.
These capsules also enhance bone density, muscular endurance and promote the growth of lean muscle mass. These benefits raise males' energy levels, strength, and stamina and bless them with renewed vitality.
Too much loss of semen due to excessive nocturnal emission creates deficiencies in the body as vital minerals are lost to reproduce semen. Lack of minerals and nutrients depletes semen quality and its volume.
Low semen volume makes a male less capable of achieving fatherhood and also gain pleasure during lovemaking. Intake of Vital M-40 capsules removes deficiencies.
By supplementing a complete range of nutrients, these capsules improve the quality and quantity of semen too. Vital M-40 capsules provide higher virility, vitality, and vigor and effective wet dreams treatment with NF Cure capsules.
These are purely herbal supplements hence can be taken by the male of any age to gain age-defying youthfulness, vitality, and virility. One can take these capsules without a prescription.
FAQs
Nocturnal emission or nightfall is when involuntary sperm discharge occurs during late night or early morning hours during sleep.
Causes of nightfall could be stress, weak nerves, congested prostate, inability to control emotions, and erotic dreams.
Significant symptoms include low libido, lethargy, lesser sensation in the genital region, burning sensation during urination, abstinence from lovemaking.
If a person experiences any of these, then without delay, he should start with herbal remedies to frequent nocturnal emissions.
NF Cure capsules are natural remedies to prevent and cure nocturnal emission in men. The herbs used in these pills are sufficient to provide an effective cure to the night discharge problem.
The herbs present in these capsules provide strength to the weak nerves to hold semen and to prevent the involuntary discharge of semen.
The ingredients used are Asphaltum Punjabinum, Asparagus Adscendens, Myristica Fragrans, Mucuna Pruriens, Withania Somnifera, Saffron, Swaran Bang, Argilla Vitriolutum, Asparagus Racemosus, Piper Longum, Caryophyllus Aromaticus, Ionidium Suffruticosum, Terminalia Chebula, Corchorus Acutagularis, Diospyros Embryopteris, Physalis Alkekengi, Ferrum, Bambusa Arundinacea, and Tricholepsis Claberrima.
The herbs used in NF Cure and Vital M-40 capsules are purely non-synthetic and thus can be continued for a long period. These herbs do not have any side effects. Herbal products are natural, and nature doesn't have side effects.
The potent herbs present in this capsule will fulfill the deficiency of valuable nutrients in the body to keep the balance of vitamins and minerals.
One can use this herbal treatment for nocturnal emission to stop ejaculating during sleep. It is recommended to use NF Cure and Vital M-40 capsules consistently for about 3 to 4 months to get maximum benefits.
As these capsules are made of pure herbs, these pills may take some time to show effects, but the results are long-lasting once benefited.
NF Cure and Vital M-40 capsules are natural preparations that have herbs that induce fitness of the reproductive tract, increase energy and vitality, and improve nerve functioning in the body.
These supplements relieve the body from all sorts of tensions, help in bodybuilding, purify the blood, and increase stamina and power.
One should take one capsule each of NF Cure and Vital M-40 twice a day. For long-lasting improvements, take them together for three to four months. Use for a long time will induce better results for the nightfall cure.
The herbs in these capsules will nourish the penile tissues, making nerves perform well to hold the semen. These capsules will help in providing the energy required to keep a hold on the semen.
Herbs in NF Cure Capsules
The effectiveness of the NF Cure capsule is dependent on the potent herbal ingredients used in this capsule.
Withania Somnifera (Ashwagandha) can improve libido. It works very well in healing wounds and other skin problems.
In Ayurveda, it is widely used in traditional remedies. This herb is also referred to as Withania Somifera. It has remarkable therapeutic properties.
It also reduces anxiety and helps the person to control his nerves. Not being able to control the nerves is one of the reasons behind nightfall, and that is precisely why they have chosen this herb as a key ingredient.
Asphaltum Punjabinum (Shudh Shilajit) is a powerful herbal ingredient usually found in the Himalayas. It is also referred to as Asphaltum Punjabinum.
It's a dark gummy object resulting from several century-long decompositions of many herbs and minerals under layers of ice.
This sticky dark herbal ingredient has the fantastic ability to improve the energy levels of the body tremendously.
Shilajit will be able to deal with chronic fatigue, tiredness, and lethargy in a natural manner. Also, it will improve the health of male reproductive organs. This herbal ingredient will help the man to exert better control over sperm discharge.
Myristica Fragrans (Jaiphal) is an aromatic spice widely used in Ayurveda for preparing many herbal remedies. It can relax the muscles naturally. It is also very good at reducing all sorts of aches and pains.
It benefits the cardiovascular system tremendously. This herbal ingredient helps lower blood pressure and is known for its detoxifying property.
Crocus sativus (Kesar) is also referred to as Saffron, and it is one of the costliest spices. It is regarded as an excellent aphrodisiac, and it is considered an excellent remedy for all problems related to the male reproductive system, including nightfall.
Though it's typically used as a spice, it has excellent medicinal values attached to it. This herb is an excellent rejuvenating herb as well. Moreover, this herb is diuretic, antispasmodic, and anodyne.
Asparagus Adscendens (Safed Musli) is a powerful herbal ingredient for all sorts of problems related to the male reproductive system. Due to this, Safed Musli is a common ingredient in herbal male stamina enhancer supplements.
Both seeds and roots are used for medicinal purposes. It is a well-known aphrodisiac. It is one of the leading herbs, according to the medicinal plant board.
It not only helps increase the body's strength but is also helpful in boosting the immune system to prevent diseases and infections.
If you liked this post, please share it on social sites so others can find it!