Nightfall Cure for Men
Nightfall or wet dreams are quite common and to an extent good for male's health. In a male's body, his reproductive system keeps on producing semen on regular basis. After a period of time, body wants to discard old semen to replace it with new ones. Night discharge within healthy limits is a process of body to discard old semen. Though there is no general number which can determine its healthy frequency but medically twice in a week is a number which is not considered as dangerous. If a person faces nightfall more than twice in a week and also experience burning sensation in urine or thinning of urine stream or obstruction in urine than he needs nightfall cure. Herbal treatment for ejaculation while sleeping is an effective and safe treatment which alleviates the problem and prevents its ill-effects on health.
Body keeps on producing semen. If frequency of discharge is more than necessary, then over time the body becomes weak. Higher frequency of wet dreams strain reproductive system and makes it fallible. Higher frequency of wet dreams can cause thinning of semen, low semen volume, impotency, premature ejaculation, low libido and erectile dysfunction even in a healthy and strong male. It can also cause enlargement of prostate gland which causes passing of semen with urine and burning sensation, pain and obstructed flow of urine. Herbal treatment for ejaculation while sleeping can very well prevent these problems from occurring by curing too much night discharge.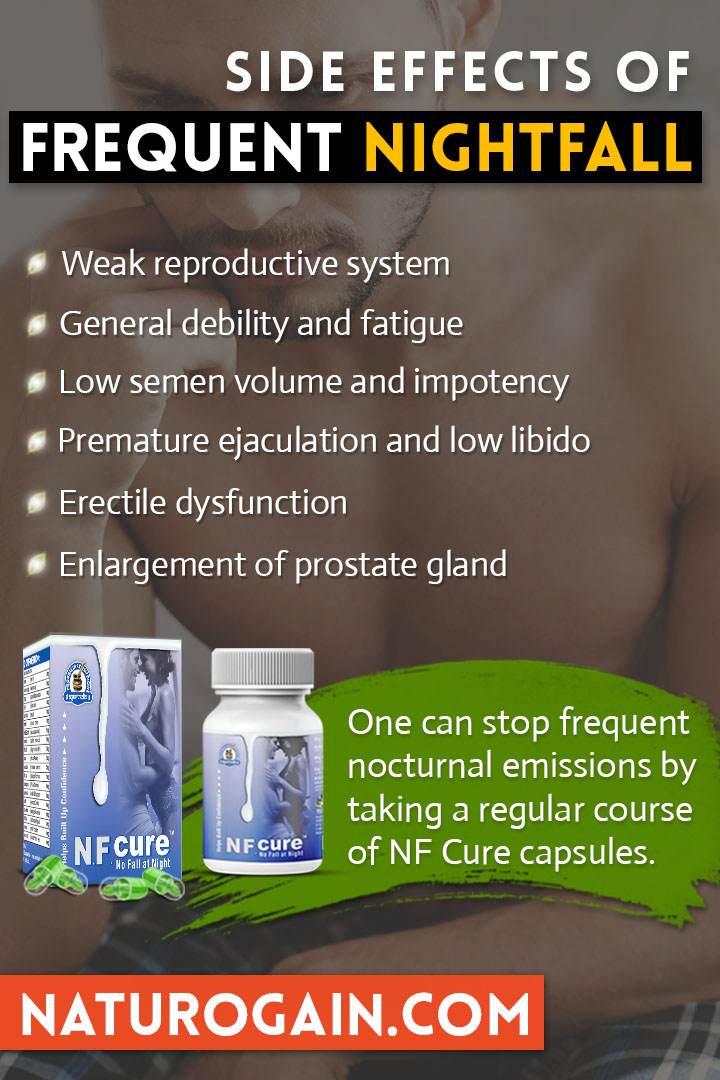 Herbal Treatment for Nightfall
NF Cure capsules are widely recommended by experts as effective nightfall cure. This is purely herbal treatment for ejaculation while sleeping which provides varied benefits. This supplement not only works as effective night discharge cure but also enhance lovemaking capacities of a male immensely. This nightfall cure contains herbs like Ashwagandha, Safed Musli, Shatavari, Kavach Beej, Kesar, Swarna Bhang, Pipal, Jaiphal, Long, Atimukyak, Purushratan, Haritaki, Dridranga, Bhedini, Ksheerika, Kankaj and Brahmdandi. These herbs have innate properties which are very useful in curbing the causes which promote frequent nightfall and also calming down its side effects.
NF Cure capsules strengthen parasympathetic nervous system of male body. This system prevents involuntary passing-out of semen during sleep. When this system is nourished and upbeat, male gains much higher control over ejaculation and prevent wet dreams. Herbal ingredients of these capsules improve blood flow towards male reproductive system and improve nourishment and oxygen supply to cells. With higher nourishment, cells regenerate quickly and strengthen tissues of male reproductive organs. Due to poor rate of cell generation, tissues become weaker which makes erection quality poor and weak. With stronger tissues males gain powerful, quicker and harder erections.
Higher blood flow also stimulates nerves of male genital region. Active nerves improve sensation and male gains quick and intense arousals. These benefits cure problem of low libido and erectile dysfunction which may occur due to excessive night discharge. By strengthening parasympathetic nervous system, NF Cure capsules improve a male's control over discharge. Powerful nervous system provides a male capacity to discharge at his own will and make love as long as he wishes to. All these benefits make a male unbelievable lover in bed and capable of providing maximum satisfaction to his female partner. These capsules not only work as nightfall cure but also promote higher libido, longer staying power, strong erections and higher semen volume.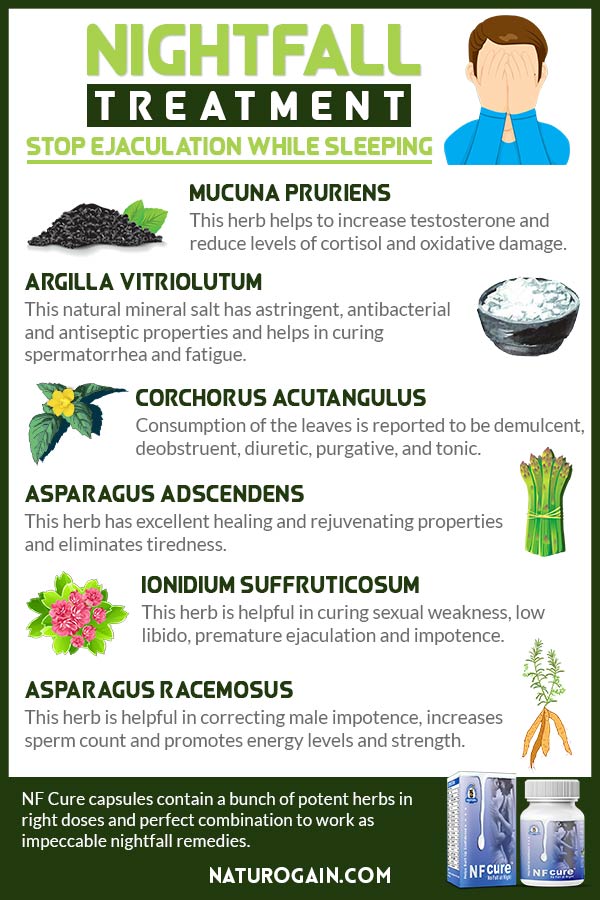 Stop Sperm Discharge During Sleep
Combining intake of Vital M-40 capsules with NF Cure capsules makes even better nightfall cure. Vital M-40 capsules have been designed to enhance a male's vitality and vigor. These capsules contain herbs which are effective in improving strength, stamina and physical power of a male. Vital M-40 capsules supplement nutrients in bio-available form. When nutrients are made available in bio-available form, these get absorbed in the body quickly. Herbal ingredients of Vital M-40 capsules enhance blood flow in the body; higher blood flow maintains optimum supply of nutrition and oxygen to cells. This ensures that cells generate speedily and make tissues and muscles of the body stronger. These capsules also enhance bone density, muscular endurance and promote growth of lean muscle mass. All these benefits raise energy levels strength and stamina of a male and bless him with renewed vitality.
Too much loss of semen due to excessive night discharge creates deficiencies in the body as vital minerals are lost to reproduce semen. Lack of minerals and nutrients depletes semen quality and its volume. Low semen volume makes a male less capable to achieve fatherhood and also gain pleasure during lovemaking. Intake of Vital M-40 capsules removes deficiencies. By supplementing complete range of nutrients, these capsules improve quality and quantity of semen too. Vital M-40 capsules provide higher virility, vitality and vigor along with effective wet dreams treatment with NF Cure capsules. These are purely herbal supplements hence can be taken by male of any age to gain age-defying youthfulness, vitality and virility. These capsules can be taken without prescription.