Nightfall Problem in Males
Nightfall is a major problem for teenagers and adults alike. Men experience semen leakage during sleep due to stressed-out nerves or weak reproductive systems. In this, men lose conscious control over ejaculation and can ejaculate even during their sleep.
With the onset of adolescence, males get sexually matured and, in some cases, face frequent nightfall. Semen leakage during sleep mainly occurs due to improper diet, hectic routine, external stressors.
Frequent semen leakage during sleep can make a man weak and interfere with his sex life. It is generally accompanied by premature ejaculation, excessive precum, weak nerves, and semen leakage.
Nightfall can be embarrassing and frustrating. However, it is perfectly curable with herbal treatment for nocturnal emission.
Herbal treatment is effective, affordable, and maintains the privacy of the user. Herbs are free of all side effects, and thus a continued intake would not be of any harm.
One can stop frequent nocturnal emissions by taking the world's most authentic NF Cure and Vital M-40 capsules. NF Cure capsules are the herbal remedies available as an herbal treatment for nightfall. This capsule rejuvenates male power and increases stamina.
These capsules are made up of the best herbs and natural preparations that facilitate the blood flow to the reproductive organ of the body.
The herbs in NF Cure provide the body with immense oxygen and nutrients supply. These are potent herbs that induce arousal in men giving them the power of the horse. These herbs help to improve male health and stamina naturally.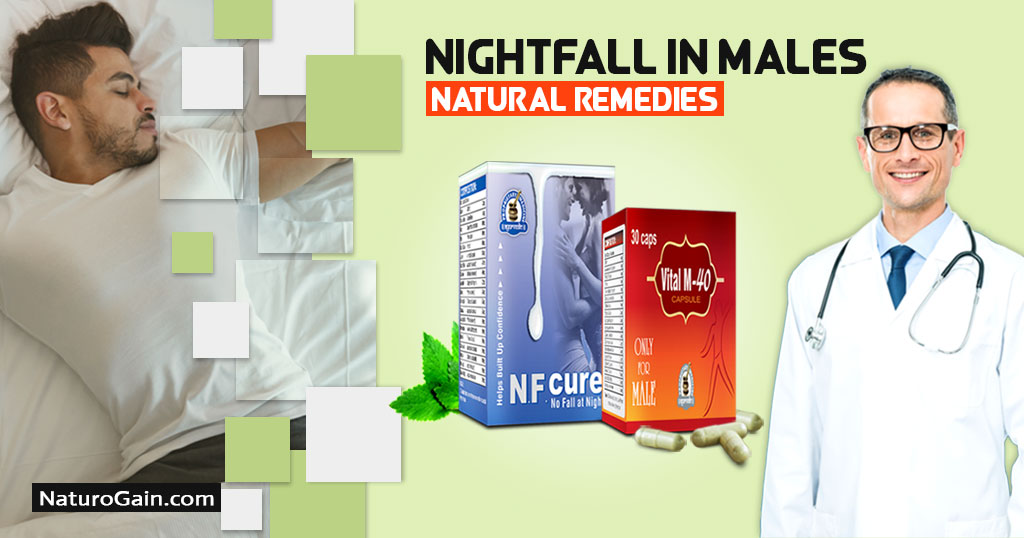 Stop Frequent Nocturnal Emission
Herbal treatments for frequent nocturnal emissions also induce fitness in the reproductive system of the body. Ashwagandha and Shatavari are world-famous for their effects on the male reproductive system.
These herbs have been used for ages to cure problems related to the malfunctioning of male organs. This capsule energizes the body and provides immense strength and power.
This capsule has counter effects on aging, anxiety, confusion, and depression. They purify the blood and are beneficial to the digestive, urinary, nervous, and circulatory systems.
Vital M-40 capsule is also an herbal treatment for nightfall. It is one of the most effective capsules to enhance vitality and semen quality in men. It maintains the body's overall fitness and fights aging, stress, pressure, and other lifestyle problems.
Vital M-40 consists of Withania Somnifera, Myristica Fragrans, Asphaltum Puniabiunum, Saffron, Cinnamon, Orchis, Aril Myristica Fragrans, and Pongamia Glabra. This pill is a perfect combination of nature and science.
This capsule converts the deposited cholesterol into muscles and increases the muscle mass of the body. It acts as an energy booster and provides nutrition to the internal organs of the body. Along with reproductive organs, it also improves the sleep-wake cycle and reduces the stress of the body.
To stop frequent nocturnal emissions, regular usage of Vital M-40 along with NF Cure capsules are necessary. One should take these pills at a stretch of three to four months to get an active sexual life back.
The proper dosage of NF Cure and Vital M-40 capsules brings about quick and excellent results. These combo packs benefit male health issues like premature ejaculation, wet dreams, excessive semen leakage, etc.
The herbal supplements in this combo pack are NF Cure and Vital M-40 capsules, considered a powerful combination to solve many health disorders.
These are also helpful in eliminating stress, depression, and anxiety. NF Cure capsules are the most recommended natural cure for preventing ejaculation while sleeping in men.
The strength of this capsule is its ingredients, the natural herbs that are prepared in a time-tested manner without causing any side effects. It provides essential nutrients to the body and keeps the testosterone hormone to the optimum level.
Vital M-40 capsules act just like adding fuel to NF Cure which enhances its working. But the question is, how does it help?
Actually, due to frequent nocturnal emissions, a person generally feels stressed out, depressive, lethargic, and lacks stamina covered by Vital M-40 capsules.
So, the combination of NF Cure and Vital M-40 capsules helps you overcome the problem and its effects. One of these supplements cures the nocturnal emissions problem, and another enhances the person's overall health.
Direction of Use
Take one capsule each of NF Cure and Vital M-40 twice a day with water or milk regularly for 3 to 4 months. This duration is an average time to get the desired results.
You may notice the change before 3 or 4 months also or may you need to take this course for complete 3 to 4 months. Results will vary as per an individual's body's recovering power.
If you liked this post, please share it on Facebook and Twitter or pin the image below. Remember sharing is caring!