Vertigo is a condition in which person feels that either he or his surroundings are moving or spinning. When person feels that he is moving, it is classified as subjective vertigo and when person feels his surrounding things are moving, it is classified as objective vertigo. This condition is often confused with dizziness. Benign paroxysmal positional vertigo is the most common form of the problem. There are numerous reasons which initiate this problem like diabetes, loss of blood in the back or the neck, reduced blood flow to the brain, neck injuries, and head injures, and acoustic neuroma, Meniere's disease, multiple sclerosis and motion sickness are commonly found causes of vertigo. Home remedies for vertigo are easy to use but effective measures to relieve troubling symptoms of the problem.
Home Remedies for Vertigo
Home Remedies for Vertigo
Soak almonds, one tablespoon of poppy seeds, pumpkin seeds and three tablespoons of wheat, let the mixture sit overnight. In the morning fry half teaspoon of cloves with a teaspoon of butter. Take almond, wheat, pumpkin seeds and poppy seed mixture, strain the water and grind the content to form a paste. Boil a glass of milk and add this paste and fried cloves and bring this mixture to boil. Consume this once in a day it works as one of the best home remedies for vertigo.
Home Remedies to Relieve Vertigo Attack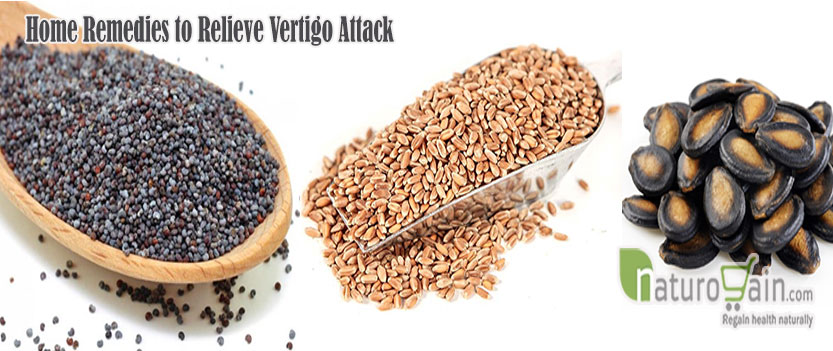 Wheat
Poppy Seeds
Watermelon Seeds
Above mentioned remedy can be tried with couple of variations as well. One can try this remedy by leaving poppy seeds out. Another method of preparing this remedy is by soaking two tablespoons of wheat and poppy seeds and 8 pieces each of watermelon seeds and almonds to make a paste.
Home Remedy to Stop Vertigo
Take two teaspoons of sesame oil, take two medium-sized cloves of garlic and crush them. Fry these cloves in sesame oil till garlic becomes brown. Strain the mixture to take out the oil, let the oil cool down and store it in a bottle. Put two-three drops of the oil in one ear and let the oil stay after one or two minutes turn the head to drain out the oil. Repeat it for another ear. This is one of the most effective home remedies for vertigo.
You may like reading:
Home Remedies for Tinnitus to Get Fast Relief
Home Remedies for Ear Infections
Hydrogen Peroxide – Natural Treatment to Stop Vertigo
People often face severe vertigo symptoms due to infections or building pressure in the ears. Dab a cotton ball in hydrogen peroxide 3% and squeeze it in one ear, let the peroxide stay for couple of minutes and then turn the head to drain it out. Repeat the same process for another ear. Try this for few days it is one of the best home remedies for vertigo. One can also put warm coconut oil in the ear; it helps in cleaning the ear and reducing pressure which bring-in bouts of vertigo.
Natural Remedies to Cure Vertigo Problems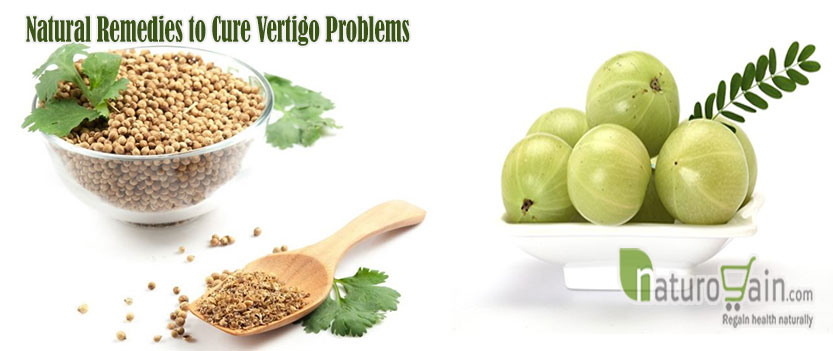 Indean Gooseberry
Coriander Seeds
Take few small pieces of Indian gooseberry, take one teaspoon of coriander seeds and add these to two cups of water. In the morning, crush the pieces of Indian gooseberry with a spoon in the water and later strain the mixture. Add some sugar to the water and drink it. This works as one of the simple yet effective home remedies.
Ginger Tea and Lemon Juice – Home Remedy to Curb Vertigo
Drinking ginger tea two-three cups in a day or chewing a piece of ginger are very useful and effective home remedies for vertigo. Squeezing a few drops of lemon juice in a freshly prepared cup of ginger tea improves its potency even more. Crush a piece of ginger one or two inches long and add it to a cup of boiling water, let the mixture boil for few minutes and later strain and drink. One can add a teaspoon of honey for taste. Ginger is one of the best-recommended methods.
Almond Milk – Home Remedy to Prevent Vertigo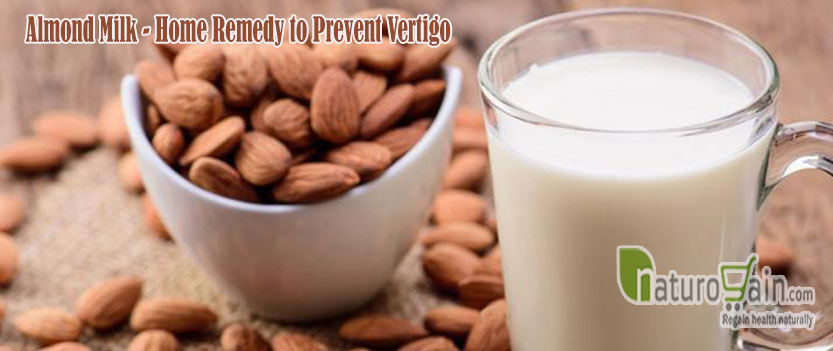 Almond milk is also one of the widely prescribed home remedies for vertigo. Soak 7 to 8 almonds in water and let the mixture sit overnight. In the morning peel them off and grind them to form a paste, add this paste to a glass of boiling milk and let the mixture boil for few minutes. Drink this milk once in a day in the morning to curb vertigo.
Beverage – Natural Remedy to Treat Vertigo Problems
Lemon as a beverage also works as home remedies for vertigo. Squeeze juice of one lemon in a glass of water, add some salt and sugar to it and powdered black pepper. Mix them well and consume the drink. It works well for relieving vertigo.
Strawberries – Natural Remedy to Relieve Vertigo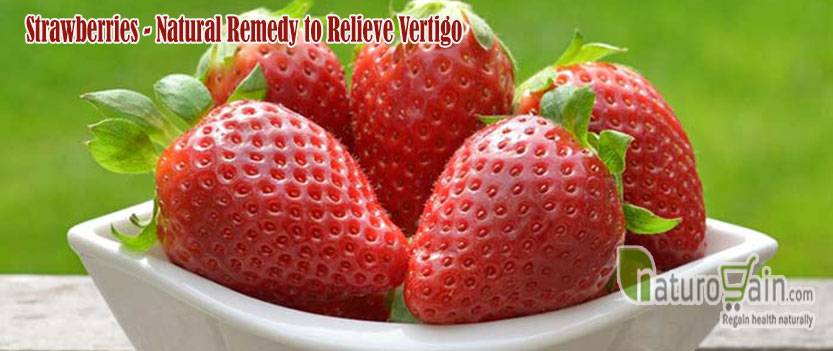 Eating fresh strawberries also work as simplest home remedies for vertigo, crush few strawberries and add them to a cup of yoghurt eat them once or twice in a day to relieve vertigo.
Avoid Jerky – Natural way to stop Vertigo
Avoid jerky movements, do not turn your head backwards while looking up and do not run or move backwards. These kinds of movements can bring in vertigo attack. Avoid joyrides or virtual reality video games too. Eat food rich in protein and vitamins and avoid caffeine, fried and processed foods and chocolates. Always stay hydrated, drink at least 10 to 12 glasses of water during the day and also consume fruit juices to avoid vertigo attacks.
You may like reading:
Home Remedies for Swimmers Ear to Ease Pain
Home Remedies for Ringing in The Ears