Herbal Treatment for Semen with Urine
Semen with urine is a sign of sexual exhaustion. It signifies severe debility in the male reproductive system and needs immediate attention. If this problem is not treated, it continues progressing and can lead to UTI and even harm kidneys.
However, this condition already suggests that the male's reproductive system is crying for nutrition and energy. There are many reasons which can deprive a male's reproductive system of energy and, in a short time, can weaken it to raise problems.
Factors related to lifestyle, habits, diet, age, and psyche can adversely affect the reproductive system's energy levels and stress it out to raise symptoms of exhaustion.
There is effective herbal semen with urine treatment that resolves the problem and provides varied benefits to enhance a male's potency and virility.
Males at any age can use this herbal treatment to cure seminal discharge while urinating.
The male body keeps on producing semen regularly. Testes produce only 2% of total semen volume in the form of sperms, while prostate glands and other seminal vesicles produce the remaining part.
Testes have a place to store produced semen. But prostrate and other organs do not have any place to store seminal fluids. These organs produce the fluids only when the male is excited.
Those males who get excited few times in a day but do not ejaculate are at high risk of suffering from semen with urine because, due to fluid build-up, prostate glands can get irritated and inflamed.
Due to inflammation in prostate glands, seminal fluids get passed out on slight pressure or excitement. When a male urinates, the urinary bladder squeezes its muscles to pass the last drops of urine out.
This pressure brings out a few drops of seminal fluids too. In many cases, urine accompanies entire semen when a male is suffering from retrograde ejaculation.
Males experience obstructed urine flow, burning sensation during urination, pain, thinning of urine stream, and urinary incontinence due to semen with urine.
Regular loss of seminal fluids further stresses reproductive organs and the prostate gland to aggravate the problem. Regular loss of semen also causes overall debility by creating deficiencies of nutrients.
Other problems that arise are PE, ED, low libido, and poor quality of semen.
Besides excitement without ejaculation, excessive masturbation, coition, certain types of medicines, weakness, drugs, alcohol, tobacco, and sedentary lifestyle also cause semen with urine.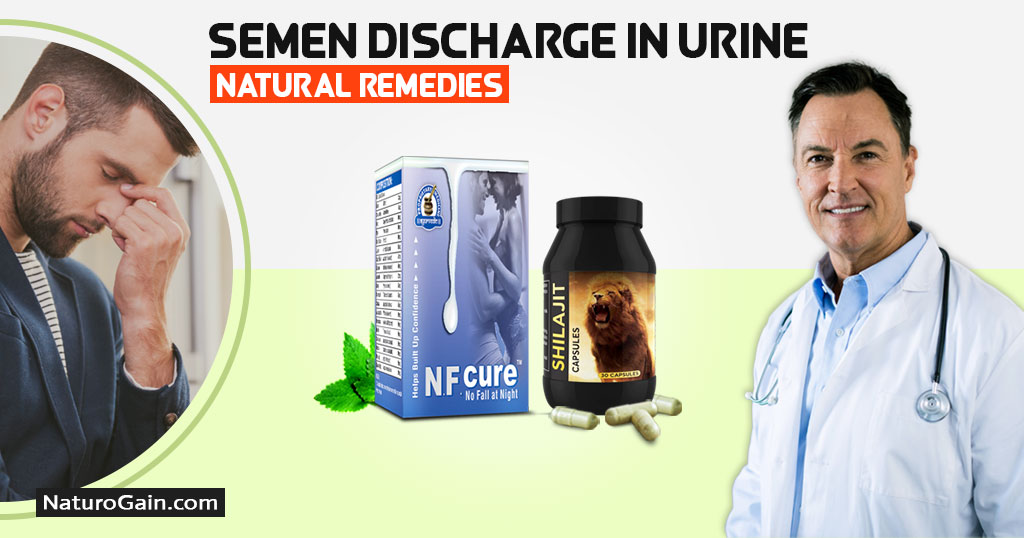 Stop Semen With Urine Naturally
Herbal semen with urine treatment can handle problems arising for any reason and resolve them in no time.
NF Cure capsules provide highly effective semen with urine treatment.
These are purely herbal and contain potent ingredients like Ashwagandha, Safed Musli, Shatavari, Kavach Beej, Kesar, Swarna Bhang, Pipal, Jaiphal, Long, Atimukyak, Purushratan, Haritaki, Dridranga, Bhedini, Ksheerika, Kankaj, and Brahmdandi.
These herbs are potent remedies to cure seminal discharge while urinating and provide numerous other benefits for long-lasting relief.
NF Cure capsules enhance the secretion of testosterone hormone to energize the stressed-out male reproductive system.
These also relieve inflammation of the prostate gland and improve nerve function in the male genital region to keep semen locked and prevent it from passing out easily.
All these benefits resolve sexual exhaustion and rejuvenate the entire male reproductive system. These also enhance the quality of semen and cure thinning of semen in a short time.
Some of the herbs used in these capsules are excellent aids for improving an individual's mental and emotional health.
These herbs help quit the habit of masturbation and frequent erotic fantasies that arouse a male and strain reproductive organs unnecessarily during the day.
All these benefits provide holistic semen with urine treatment which also cures problems like PE, ED, low libido and improves the quality and quantity of semen to enhance a male's potency.
NF Cure and Shilajit Capsules
Shilajit capsules with NF Cure make it an even better treatment to cure seminal discharge while urinating. Due to the loss of semen, the male body becomes weak.
Shilajit capsules supplement a big dose of nutrients, increase the frequency of energy-producing reactions, heal damaged tissues, improve blood's nutrition carrying capacity, and improve immunity to enhance a male's vitality by many times.
These capsules nourish cells, tissues, muscles, and bones of the body and make a person physically stronger, high on stamina, and energetic to prevent sexual exhaustion completely.
These capsules make results obtained by using NF Cure capsules long-lasting by enhancing the body's strength, endurance, and energy levels immensely.
Males gain youthful energy, strength, and stamina, which keeps reproductive organs energized and strong to prevent sexual disorders.
Regular use of these capsules elevates a male's lovemaking capacities, potency, and virility many times, along with semen with urine treatment.
Males who want to avoid problems related to the reproductive system from surging can also use these as preventive measures to enjoy youthful vitality, virility, and vigor for a longer period in life.
These are fit to be used by men of any age and can be taken without any prescription.
Liked this post? Would you be willing to help us spread the word?