Herbal Erectile Dysfunction Oil
Herbal penis erection oil is the safest natural way to boost a male's lovemaking capacities many times to make him a fantastic lover in bed.
Impotence is adversely affecting the male abilities to perform well in bed. Let's take a deep dive into the factors responsible for ED problems.
Male cannot perform in bed unless they gain optimum hardness for sufficient duration in their reproductive organs.
There are many reasons which can disturb this natural process of gaining optimum hardness on arousal in males and at any age.
Sometimes males who have led a good love life, due to certain factors, can generate weaknesses and debilities which stop them from gaining hardness and jeopardize their love life.
The reasons which can negatively affect a male's erection quality vary from mild to significant. Still, with proper treatment, males can reverse the ill effects of these factors, and males can start leading a healthy and pleasurable love life.
Herbal erectile dysfunction oil is one of the trusted and most effective ways to resolve problems related to erections in a short time.
Bad habits like hand-practice, frequent nightfall, weakness in tissues, insufficient energy levels in the body, hormonal imbalance, unhealthy lifestyle, obesity, medicines, and diseases like diabetes can cause ED in a male at any age.
Apart from these, psychological problems like low libido, stress, anxiety, depression, mental tensions, and strained relationship with a partner can also affect erection quality in a male.
If a male cannot gain sufficient hardness on arousal on one or two occasions, it's normal, but frequent occurrences need attention.
Some conditions can ring a bell very early if a male is watchful.
If a male experiences that his organ becomes flaccid very quickly after ejaculation or remains too flaccid during a normal state, it can be due to debilitating factors that can lead to ED.
Males experiencing reducing sensation in their genital region shall also remain watchful to avoid the arrival of ED. Herbal erectile dysfunction oil is safe and can be used as a preventive method too.
Due to growing age or unhealthy lifestyle and diet, males may see weaknesses like mentioned above. They can use this oil as a preventive measure to maintain their sexual stamina and performance.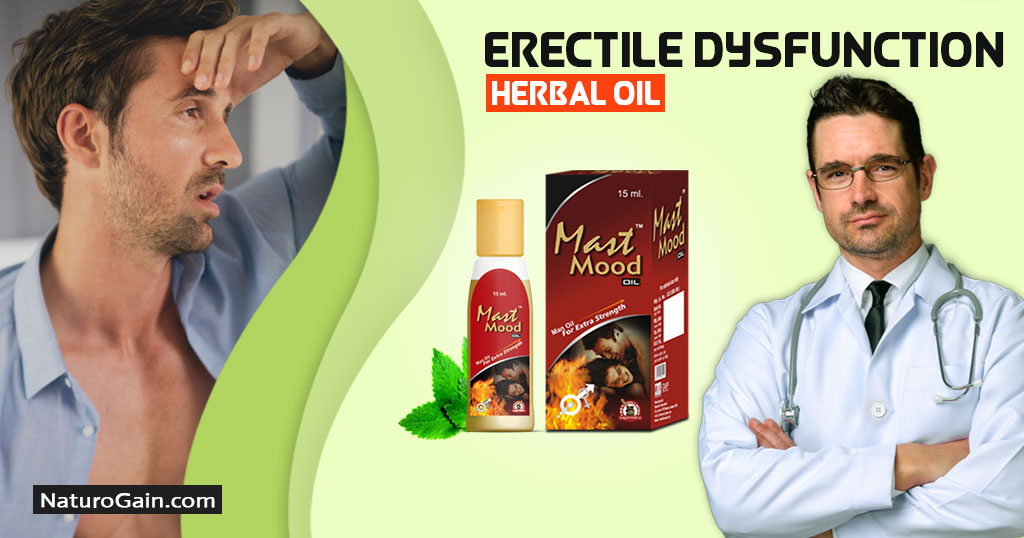 Natural Oil for Male Impotence and ED
Mast Mood erection oil is the most trusted and widely recommended erectile dysfunction oil. It is purely herbal and enhances a male's virility, vigor, and lovemaking power.
Mast Mood oil contains herbs and herbal oils in perfect combination, which penetrate deep into the skin and affect internal organs of the male genital region.
This oil on massage seeps through the skin, and its ingredients enhance blood flow in the region.
Insufficient flow of blood, weak tissues, and sluggish nerves occur in the male genital region due to aging, lack of testosterone hormone, low energy levels, circulatory problems, diseases, and lack of physical activity.
When males have weak tissues and lesser blood supply, their erection quality deteriorates because tissues absorb blood and become stiff and bigger to cause optimum hardness in a male organ.
If males have sluggish nerves, they do not experience sensation and get aroused to gain hardness in their male organs. With higher blood flow, the nerves of the male genital region and cells get more nutrition and oxygen.
Cells with higher nutrition and oxygen multiply more and make tissues stronger and enduring, and higher blood flow also stimulates nerve function and enhances sensation many times.
All these benefits promote quick and harder erections on slight persuasion. The ability to provide these benefits makes Mast Mood oil helpful penis erection oil which resolves the problem of ED.
Massages with Mast Mood erectile dysfunction oil energize all the organs of the male genital region.
These also improve semen production and cure problems like penile curvature and pain during stiffness which occurs in males practicing too much masturbation.
Massages with Mast Mood penis erection oil can enhance the size of the male organ too.
These dilate tissues located in the penile shaft and make them grow bigger. Bigger growth in tissues increases erection size by few inches. This increase in size heightens lovemaking pleasure for both partners.
Combining Bluze capsules with Mast Mood oil brings in even better results.
Bluze capsules are herbal male sex enhancer pills that resolve problems like ED, low libido, PE and boost semen production with healthy and motile sperms.
Along with erectile dysfunction oil, these capsules provide a male with higher potency, virility, and vigor and also a powerful and bigger genital organ for a longer duration.
Bluze rejuvenates the entire male reproductive system. These are exceptionally beneficial for aged males and keep a male active in bed for a much longer period in life.
The use of Bluze capsule and Mast Mood erection oil maintains a male's extraordinary lovemaking capacities and potency.
These keep a male passionate and capable lover in bed who can provide maximum satisfaction to his female partner. These are herbal supplements, hence can be used without any prescription.
One can use them to treat ED and gain great lovemaking capacities, virility, and potency.
Frequently Asked Questions (FAQs)
Mast Mood oil is a natural massage oil that helps in providing the best ED remedy. It allows men to maintain strong erections.
This oil is loaded with powerful ayurvedic herbs, strengthening the weak nerves and improving blood flow towards the male genital area to increase erection size.
The ingredients used are Ashwagandha, Jaiphal, Jawadi Kasturi, Sona Patha, Javitri, Samudra Phal, Tulsi, Nirgundi, Kapur, Dalchini, and Buleylu oil.
Take around 8 to 10 drops of this oil in hand and gently massage the male organ with it.
The herbs used in this oil will improve blood circulation, thus making male organs hard. One can take Booster capsules along with regular use of this herbal oil to get positive results.
Due to a natural formulation, this oil is the safest way to help a man increase his erection size.
The herbs used in it do not cast any side effects on the male reproductive organs. These herbs maintain proper blood flow to the genitals, thus helping the man get aroused while making love.
It is recommended to use Mast Mood oil for about 3 to 4 months to get optimum benefits.
Regular massaging the organ with this oil will surely improve the lovemaking performance and stamina of the man.
This herbal oil may take some time to show results, but the effects are long-lasting.
Liked this post? Would you be willing to help us spread the word?
Thanks to the herbal ingredients, Mast Mood oil is a powerful herbal erection oil that solves ED problems. When combined in the correct ratio, these herbs deliver exceptional health benefits to male health.

Sona Patha is a powerful herbal ingredient, and it is one among Dashamoola. This herb has excellent anti-inflammatory action. This herb is said to be astringent as well as pungent.
Root bark and fruit are used for medicinal purposes. This herb can deal with ED problems.
It will improve strength, stamina, and power and allow males to gain hardness in their genital organs for longer to make lovemaking a rewarding experience.

Kapur is an aromatic wood crystalline powder. It is widely used in Ayurveda for making many herbal remedies.
Kapur is bitter and cold in action. Above all, it is a very effective aphrodisiac, and it will help men perform well in bed. It will also deal with all the Kapha and Pitta disorders.
It is suitable for the skin and fights bacteria. This herb is considered to be a stimulant to the heart.
It repairs the damaged nerves, and that will improve erection quality. Males will improve their lovemaking ability tremendously with the help of this herbal ingredient.

Dalchini (Cinnamon) is an aromatic herb, and it is widely used in cooking and Ayurveda. It can stimulate all the senses.
It is a well-known aphrodisiac, and it has been used for centuries to deal with impotence and other male disorders.
The smell of Dalchini is referred to as the perfume of the lovers' bed. Several studies have revealed that the aroma of Dalchini helps in lovemaking.
It helps calm your nerves, and that will add to the performance in bed. Due to this property, Cinnamon oil is used in aromatherapy.

Myristica Fragrans is the other name of Javitri (Jatiphala). It is a widely used spice. It is a tropical evergreen tree, which is widely used in Ayurveda for preparing many Ayurveda remedies.
This herb is considered to be an excellent male stimulant and prevents the early discharge of seminal fluids. It is bitter, pungent, and astringent in taste.
It improves male potency and helps to get rid of pain and inflammation.
Undoubtedly, Javitri is one of the most commonly used ingredients in aphrodisiac preparations considering its action as a powerful stimulant. It prevents PE, and it deals with ED as well.

Jaiphal is an aromatic spice. It helps relax the muscles naturally. It is suitable for dealing with aches and pain. It lowers blood pressure and also assists in detoxification.
It improves male potency. ED will no longer be a problem when one uses this herb. It increases the effectiveness of other herbs when mixed with other herbal ingredients.
Due to this property, this herbal ingredient is widely used as a supportive ingredient to enhance the product's effectiveness.

Buleylu Oil is a powerful herbal ingredient. This oil will repair the damaged nerves in the male organ.
These nerves are responsible for sending blood to the male organ when excited, which results in a firm erection.
This oil repairs the damage and makes the nerves stronger, improving blood circulation and hardness in the male genital organ. It also provides lubrication for easy application of the oil.
Due to its anti-inflammatory properties, this oil is extensively used in many ayurvedic preparations.