Natural Treatment for Weak Erection
Are you frustrated with erectile dysfunction problems? Are you embarrassed by the fact that you are unable to satisfy your love partners?
Then herbal treatment for weak erection can prove to be an effective natural solution for treating these disorders.
A sex life that satisfies both partners is mandatory for the overall wellbeing of human beings. But there can be times when marital life is not fulfilling due to male impotence.
If you have impotence, go through this saver combo pack of Bluze capsules and Mast Mood oil. We are sure that this will prove the best solution to your problem.
Bluze capsule is a powerful natural remedy for male impotence. The herbs in it are known to have improved the vitality and virility of males since time immemorial.
When the nerve signals do not interact perfectly, then sexual arousal does not occur properly. When arousal fails to occur, the brain cannot send nerve impulses to the penis.
The brain can only continue to send the impulses that trigger erection when the nerves are strong and are in a perfect state.
The erectile tissues in the male organ get filled with blood with continuous stimulation, and the hardness in the male organ persists.
When these interactions are disturbed by some way or the other erectile dysfunction (ED) happens. Overdoing the hand practice can be the primary cause behind weak nerves and impotence in men.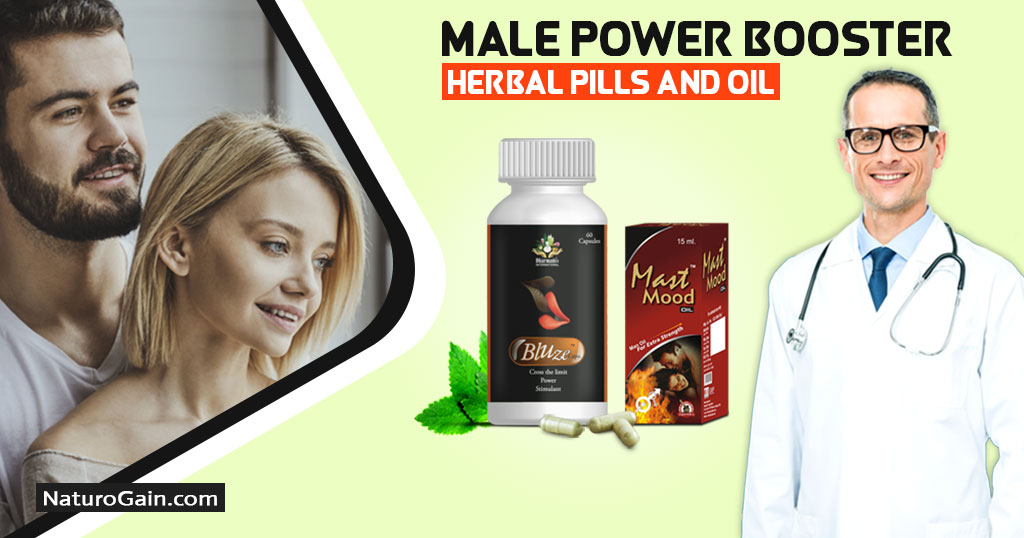 Bluze capsule has proven to be an effective weak erection treatment. Low libido can result in ED. Reviews suggest that the Bluze capsule improves the supply of testosterone, thus boosting up libido in males.
Too much hand practice, excessive intake of medicines and alcohol may lead to impotence in males by disturbing the interaction among the nerves.
Men are often faced with the embarrassing problem of ED that can bring in depression, low confidence, and a feeling of lack.
Bluze capsule is the only solution for such males. The powerful and potential herbs in these herbal capsules are 100% safe that directly target the nerves around the male reproductive organs by improving blood circulation.
Bluze capsule, a powerful weak erection treatment, has been instrumental in curing impotence. It is a non-prescription male libido enhancer supplement.
This natural supplement gives males control over their reproductive organs, which improves ejaculation control. It improves the stamina and the energy level of the body.
Among the various ingredients present in Bluze capsules, Ashwagandha, Vidarikand, Safed Musli, Shilajit deserves special mention.
The herbs in the Bluze capsule are powerful aphrodisiac agents that improve overall male stamina and power. Ashwagandha helps to prolong erection and thus enhancing reproductive health. Vadarikand improves vitality and vigor.
A regular intake of Bluze capsule with milk or water, twice or thrice daily, for 3 to 4 months will act as the best weak erection treatment.
Natural Supplements to Get a Rock Hard Erection
For faster results, the Bluze capsule can be coupled with the massage of Mast Mood oil, one of the effective male impotence remedies.
The potent herbs in Mast Mood oil help restore lost vitality and energy. Massage of Mast Mood oil has a calming effect over the male organ, resulting in a bigger and harder erection.
The oil can be massaged with soft hands for a few minutes for better results. You must continue both the capsule and the herbal oil for 3 to 4 months to improve bedroom performance significantly.
This combo is considered a completely natural solution for ED problems. It also improves your lovemaking act by increasing stamina.
Bluze capsules will enhance the flow of blood towards the genital area and clear blockage, which increases blood flow at the time of arousal for a better orgasm.
These are complete herbal supplements with natural herbs as their ingredients. So you can use this weak erection cure without bothering about an adverse effect on the body.
Mast Mood oil with the above capsule is just like icing on the cake. It keeps the male's erection hard, strong and enhances his strength.
This oil helps you increase the male organ's length and girth to get pleasure and complete satisfaction during the lovemaking act for you and your partner.
FAQs
ED is a male disorder whereby it becomes difficult for the sufferer to retain erection during lovemaking.
When the interactions among the nerves are disturbed, problems like impotence and premature ejaculation occur. The causes of such dysfunction can be both psychological and physiological.
Overdoing hand practice in the adolescent age can lead to ED, where one becomes impotent and cannot retain the hardness for a longer time.
If a person cannot retain the hardness in his male organ for more than a minute, he is said to be suffering from impotence.
The herbs in these herbal erectile dysfunction pills and oil have aphrodisiac properties that trigger sexual arousal. They help males get a rock-hard erection and improve the lovemaking experience.
Bluze capsules and Mast Mood oil rejuvenate and revitalize the genital organs by improving blood and oxygen supply.
No, Bluze capsules and Mast Mood oil don't have any side effects as such. These are non-prescription capsules and oil that require no prescription.
These herbal pills and oil are composed of absolutely safe and natural ingredients. These can also be used with other medicines and a normal diet without any fear of side effects.
Regularly use these herbal erectile dysfunction pills and oil for around 3 to 4 months to attain faster results. You must take the capsule with milk or water to bring in faster results.
Take one Bluze capsule twice daily for 3 to 4 months, along with milk or water, to get faster results.
Massage a few drops of Mast Mood oil around the genital organ with soft hands for a few minutes. It will calm and relax the male organ to produce a harder and long-lasting erection.
If you liked this post, please share it around!