Oligomenorrhea Natural Treatment
All-female mammals including humans bleed after a certain period during their reproductive age. For humans, this period is of 28 days.
Though a change in this duration by a couple of days is also normal. In some cases, women do not bleed even for more than 35 days, and when they bleed either it is too scanty or too much.
Some women bleed for more than 7 days. This irregularity in duration and amount and duration of bleeding is referred to as oligomenorrhea.
Women suffering from irregular periods also suffer from other symptoms like pain before menstruation, cramps, excessive vaginal discharge between periods, etc.
The problem of irregular periods can cause other health issues like difficulty in conception, weakness, stress, fatigue and low libido.
This problem shall not be ignored because if left untreated, it keeps on progressing and cause further complications. Oligomenorrhea natural cure is an effective and safe way to resolve the problem naturally.
The menstruation cycle is a process that prepares a woman's body to conceive. This process is shedding of the endometrium, which is the lining of the uterus. This lining accompanies blood and is passed through the vagina.
This process takes a minimum of 3 days. During this, female bleeds regularly; although some women may take 4-5 days to complete the process which is also healthy.
After 3 days, women experience just spotting which also stops completely by 5th day. In the case of women suffering from oligomenorrhea, periods arrive late and women may bleed for more than 5 days or too less.
Irregular menstrual bleeding treatment resolves the problem in no time and regularizes the menstrual cycle.
Women suffer from irregular periods due to an imbalance of hormones. They need a proper balance of estrogen and progesterone hormones to keep the reproductive system healthy and upbeat.
Some women during growing years suffer from this imbalance while some acquire at later age to face irregular periods.
Apart from these, anemia, sudden weight loss, aging, obesity, thyroid problems, and excessive stress can also cause irregularity in periods.
Oligomenorrhea natural cure can handle the problem occurring due to any of these reasons safely and in a short time.
The oligomenorrhea natural cure is made by herbs in their purest form which does not contain any artificial substance and hence, safe for women of any age.
Even those women who are approaching menopause, which may cause irregular periods, also get benefited by using this supplement.
Herbal Treatment for Irregular Menstrual Period
Out of all the available supplements, Gynecure capsules are regarded as the best and most effective irregular menstrual bleeding treatment.
These capsules provide beneficial properties of renowned herbs with every dose and alleviate the condition in a short time.
These contain highly effective herbs in the right dosage and perfect combination to provide safe and natural irregular menstrual bleeding treatment.
Gynecure capsules come loaded with Lodhra, Supari, Morpankhi, Ashok, Kasani, Shwetbeej, Pataltumbi, Samudraphal, Menphal, Tapasvini, Mochra, Kandera, Eshkapencha, Putrajiva, Pipa, Sutrapushp, Putrakanda, Kut, Shivlingi, Hirabol, Ketasi, Dawara, Dharapatra, Tejphal, Nagkesar, Kesar and Kachnar.
These herbs provide many beneficial properties and treat every aspect of the problem to provide complete and long-lasting relief.
The herbal ingredients of Gynecure capsules balance the secretion of estrogen and progesterone hormones which is vital for the healthy functioning of the female reproductive system.
Proper hormonal balance strengthens and makes reproductive organs enduring to regularize menstruation cycles. These capsules promote the formation of the endometrium and initiate the process of its shedding within a stipulated time.
The improved functioning of the entire reproductive system ensures that the menstrual cycle gets over without excessive bleeding and within the healthy duration, and occurs regularly after every 28 days.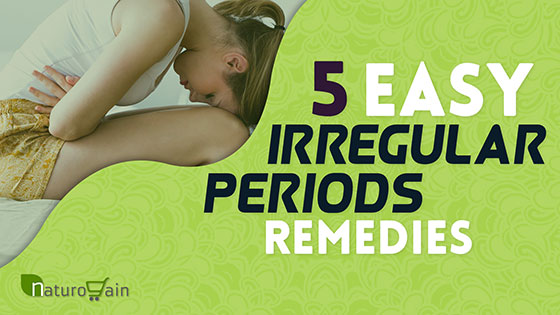 Natural Cure for Irregular Menstruation
The herbal ingredients of Gynecure capsules are wonderful in countering stress, fatigue, and exhaustion. These also control hormonal fluctuation occurring due to pre-menopause and thyroid problems to keep menstruation cycle regular.
Gynecure also calms down troubling symptoms like cramps, pain, and uneasiness before or during periods to allow a woman to have a smooth and regular menstrual cycle every month.
Ability to provide all these benefits makes Gynecure the most effective irregular menstrual bleeding treatment.
Combining the intake of Feroplex capsules with Gynecure makes this irregular menstrual bleeding treatment even more effective and better.
Women generally suffer from iron deficiencies which cause anemia and eventually debility. This debility weakens the entire body and also reproductive organs.
By using Feroplex as supplements, women gain the necessary dose of iron which keeps the number of RBCs higher in blood and body energized and healthy.
Iron improves nourishment to cells and promotes their regeneration. Poor iron supplies deplete this process which causes all sorts of troubles.
Feroplex capsules prevent this situation and maintain an optimum supply of oxygen and nutrients to all the cells of the body to keep organs stronger and active.
Combining the intake of Feroplex with Gynecure capsules eliminate all the causes of Oligomenorrhea and treat it holistically to provide long-lasting relief.
Both these capsules are purely herbal hence can be taken without any medical prescription. These capsules can be used for prolonged duration without worrying about side effects.